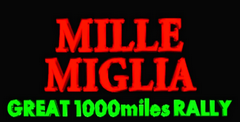 The Great 1000 Mile Rally
by
Hola arcade goers! Kaneko has just released a new racing game called The Great 1,000 Mile Rally. This game has some cool features which make it a blast to play.
First of all, you can select your car from among 10 classic road racing cars. Each of these cars is a beautifully detailed reproduction which looks just like the original! With names like Ferrari, you know you're in for some serious racingl
The Great 1,000 Mile Rally also sports some cool 3-D graphics which display your car from various angles. This little tidbit heightens the play control and makes the game dretty realistic. When you start going real fast, the background begins to blur giving the player a sense of motion. You had better be careful going into the turns, though. If you take a turn going too fast, the car will "fishtail" and spin out. As you approach a turn, however, the computer will display an arrow to warn you of the upcoming bend in the ad! There are 12 very challenging tracks to choose from.
Buckle up and get ready for Kaneko's Great 1,000 Mile Rally. Hurry up and don't spin your wheels!
2016-07-07 The Great 1000 Mile Rally game added.