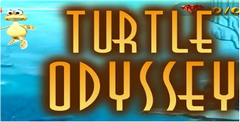 a game by Realore Studios
Turtle Odyssey is a new arcade of Good versus Evil that will take you on a fantastic underwater journey with the ultimate goal of finding stolen talismans. The game offers lively gameplay, rich deep-sea visuals, amusing characters and more!
2005-03-11 Turtle Odyssey is a new platform arcade game.