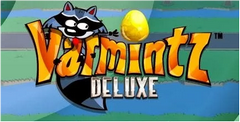 Why did the chicken cross the road? Or, why did millions of frogs cross countless roads and rivers? If you played coin-ops in the 80s you know the answer. To get home of course. Luckily for us, Skunk Studios, the company behind Varmintz, has done an excellent job paying homage to the near forgotten genre first started by the classic game Frogger.Varmintz adds several new gameplay elements by borrowing from other genres.
If you like Varmintz Deluxe, try other games: Iggle Pop.
2005-01-03 Jump into some fun with Varmintz!

X
Next game:

Download Universal Boxing Manager