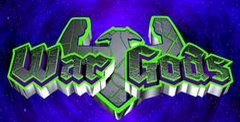 The creative minds at Midway have finally seen fit to show a few shots of their latest fighting extravaganza: War Gods. The warriors look polygon-based with a three-dimensional fighting arena. The cast of characters has an assortment of special powers that explode with pyrotechnical brilliance. As the name implies, the combatants are deities This could lead to some interesting battles to say the least.
MANUFACTURER - Williams
THEME - Fighting
NUMBER OF PLAYERS - 1 or 2
2016-07-26 War Gods game added.