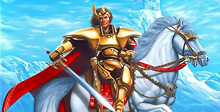 The Dalsis Empire has laid siege upon the Castle of Baltia to seize the legendary sword — WARSONG. In desperation. King Alfador sends his only son into the countryside, away from impending death. Now, Prince Garette must rally his allies from across the kingdom, and lead their armies in a battle to recapture the sacred sword, and restore justice...
Features:
Strategy Role Playing puts you in full command!
Watch as armies clash, magic ignites, and monsters devastate!
Thrill as the tale of Baltia unfolds in the heat of battle!
Battery Backup saves 4 campaigns!
WARSONG — The Greatest Tale Of Swords And Magic You'll Ever Play!
2006-04-30 Warsong is the only title of a series of famous strategy games.

X
Next game:

Download Tradewinds Legends