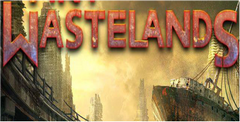 a game by Reflector Studio
Continue:
Soldat
(arcade/action)
Wastelands is a great game with only a few faults; until you master the controls you will find it hard to handle your tank. The graphics in this game are pretty good, and the idea is maybe a little over used when you compare it to some other games.
But it is a MUST download.
2003-08-01 New game Wastelands got GREAT award.
2003-08-01 Action, action, and more action - that's a motto for the new post-apocalyptic humans vs robots blockbuster shooter called Wastelands.
2004-09-14 Wastelands updated to v1.2
2004-09-14 Wastelands updated.
2005-01-26 Wastelands, a 2d tank game updated.