Wheel of Fortune (gamegear)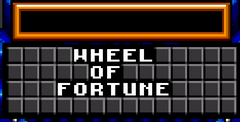 Now you can buy a vowel no matter where you are, thanks to a nicely crafted Game Gear version from GameTek. Play against the computer or challenge your friends. Up to three people can play, taking turns. Choose from a gallery of sad-looking contestants who brighten up briefly when they hit big money on the wheel. Play through three rounds, and the winner moves on to the Bonus Wheel.
2017-07-05 Wheel of Fortune (gamegear) game added.

X
Next game:
Download JEOPARDY! (Sega CD)