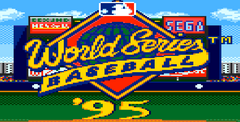 World Series Baseball '95 (gamegear)
by Sega
Powerhouse Portable Baseball
Where the leather Meets the Lumber
Where the leather Meets the Lumber: World Series Baseball '95 has everything a fan would want (and leaves out all the stuff you'd rather avoid). Three unique game-play screens (including an all-new centerfield perspective), four stadiums, All-Star teams, exhibition and pennant modes, and speech make this the most realistic portable baseball game to date. In Pennant mode, you guide a team from one of six divisions through a complete schedule ranging from 32 to 162 games. Then battle your way through the expanded playoff format for a shot at the World Series. In Exhibition mode, challenge the CPU or a friend in Gear-to-Gear completion, with your favorite club or a team of your own making.
Warm-Up: Drop your rosin bag and step up to the plate with World Series Baseball '95 from Sega Sports for the Game Gear. This one- or two-player, 4-meg hardball extravaganza with battery backup features all 28 major league teams with updated 1994 rosters, spectacular graphics, and superior game play. Featuring more than 700 real baseball players, it's got all the major league stars and more. Use the Team Edit feature to put together a powerhouse club. Take it Gear-to-Gear with the pigeons of your choice and show 'em your stuff. This is America's game gone portable.
Hot Hints.
When Pitching:
Keep an eye on your pitcher's stamina. If he starts to lose strength, quickly look to the bullpen for relief.
Hold base runners tight to the base. Stolen bases often lead to RBIs.
Pitching inside to the batter is most effective.
When Batting:
Be selective with pitches. Make the pitcher put it the strike zone.
Aggressive base running is often the difference between a win or a loss.
Never bunt with two strikes.
2017-07-07 World Series Baseball '95 (gamegear) game added.

X
Next game:
Download R.B.I. Baseball '94 (gamegear)