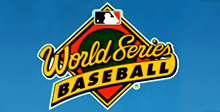 World Series Baseball
by BlueSky Software
The new Standart In Cartridge Baseball
Warm Up
Combine a spectacular in-the-batter's-box view with the Genesis 32X, and the only possible total is World Series Baseball Starring Deion Sanders from Sega Sports, With all 28 of the real major-league teams and all 700 of the real players-superstars like Sanders, Bonds, Belle, Bagwell, McGriff, and Puckett-this one's got the stuff that baseball action is made of. It's the only game on 32X licensed by Major League Baseball and the MLBPA, and no other cartridge game on the market has better-looking graphics. Period.
Awesome Graphics And Smoother Play
The power of the 32X enhances what is already considered the finest baseball game in America. In addition to all the great features that are in the Genesis cart of World Series Baseball, this far more colorful dual-processor version gives very accurate representations of the team logos, fully reproduces all 28 stadiums, and gives an intense new zoom that lets you view fly balls and diving catches up close. On the major-new-feature side, you can now see in full-fledged zoom your outfielder climbing the wall to rob an opposing batter of a round-tripper. Code crackers will find some very interesting hidden features, including a team of the game's developer, Blue Sky. From blazing digital sound to a huge 256K battery backup, this Sega Sports spectacular rips. Play ball!
Hot Hints
Hints:
Send outfielders to climb the walls and snag those near home runs.
Tighten up your roster by trading players. Dream teams are us.
Learn to key the strategy setting to the situation. If you're looking for a double play, gamble and bring your outfielders in.
Expecting a bunt? Shift your infield accordingly.
Beginners ought to select autofielding and concentrate on the basics of batting, pitching, and basemen.
2006-04-30 Try to win the pennant in a 162-game season in World Series Baseball.

X
Next game: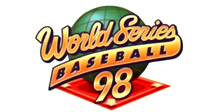 Download World Series Baseball 98