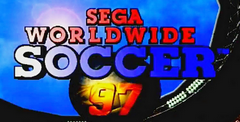 Worldwide Soccer 97
by Sega
Even though the cold weather has hit, soccer enthusiasts can still enjoy the world's largest sport in the comforts of their own home. Sega World Wide Soccer '97 gives players a great soccer title with the option to play either one- or two-player simultaneous action. Play is fast and really accurate to the actual sport with, all the little features included within. These small elements that make it extremely fun are the ways the 3-D action is used to give both players a new perspective of the action during each half of the game. Another feature that is more fun on the screen than it is in practice is the penalties and injuries you can get or cause on other players. Players will snicker when they see the ref come out of the woodwork and flash that insignificant yellow card in a player's face after he's been naughty. And for the pressing team captain, players can even rotate their defenses and play style to custom tailor their team.
The game style is extremely quick, by allowing the player to control the team member closest to the ball just as if it was an extension of themselves.
To get into WWS '97, players only need to pick their favorite international team and practice up on those slide tackles to remove the ball from the opposition before he puts your sloppy goalie to shame.
MANUFACTURER - Sega
THEME - Sport
NUMBER OF PLAYERS - 1-4
2016-10-07 Worldwide Soccer 97 game added.

X
Next game: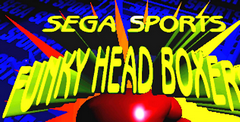 Download Funky Head Boxing