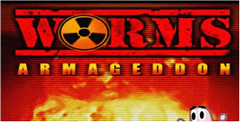 Worms Armageddon Totally Killer Weapons: * Standard Weapons - Bazooka, mortar, homing missile, air strike, napalm strike, baseball bat, battle axe, blowtorch, cluster bomb, dragonball, dynamite, fire punch, flamethrower, grenade, handgun, shotgun, minigun, kamikaze, landmine, longbow, mortar, petrol bomb, prod, sheep, suicide bomber, uzi. * Secret Weapons - Can you find all the secret weapons dropped in crates during gameplay. There are some awesome ones waiting to be found and used like the carpet bomb, mail strike, ming vase...even an overweight game producer.
2005-09-09 Worms Armageddon is a hilarious worms game.
2006-11-17 Worms Armageddon description updated.

X
Next game:

Download Worms Forts: Under Siege