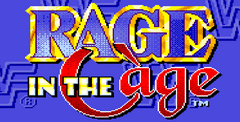 Wrestling Federation: Rage in the Cage
by Sculptured Software
Deliver an Atomic Drop to your eyes and ears with World Wrestling Federation Rage in the Cage for the Sega CD from Arena. This one- or two-player bodyslam-fest pits 20 superstars from the World Wrestling Federation against each other in One Fall, Brawl, Tournament and Steel Cage matches so you can determine once and for all who is the ultimate matman. Between the state-of-the-art digital video and the great CD audio, the outstanding wrestling action shines brighter than ever. For use with three- or six-button controllers, World Wrestling Federation Rage in the Cage sends you on your search for the World Wrestling Federation Championship Belt — wrestling's most coveted award.
TIP: The intro offers spectacular live- action digital footage of wrestling's greats.
TIP: Go for the pin while your opponent is down by hitting Buttons A and B. Press any Button to hold the pin for the three-count.
World Wrestling Federation Rage in the Cage has four types of matches. The One Fall is a straight one-on-one for two wrestlers that lasts until the first pin. Brawl is a no-holds-barred, referee-less blast that allows everything from chokes to eye gouges. Tournament lets you choose a wrestler and take him up against 19 other brawlers to win the Belt. Steel Cage Match locks you and another wrestler inside a steel cage—the winner is the first out in an anything goes match Each of the 20 wrestlers has his own special move. Irwin R. Schyster (IRS) has his Write-Off, Macho Man Randy Savage does his Flying Elbow Smash, The Undertaker takes out opponents with his Tombstone Piledriver and Tatanka shakes things up with his Reverse Fallaway Slam. As you grind your way through the Grapples, go for a Bodyslam or a Headbutt. After you slam your opponent onto the mat, blitz him with an Elbowdrop or a Big Splash. From the tumbuckle go aerial with a Clothesline or a Dropkick.
TIP: You can wear out your opponent faster by mixing in simple moves like this Punch. Punch anytime by pressing Button B while both fighters are standing.
TIP: Leaving the ring during a match is illegal. Do It anyway and then use illegal moves to keep your opponent outside past the 10-count.
TIP: Control your opponent in a Grapple by hitting any Button as fast as possible. If your opponent appears to dominate, press Button A repeatedly.
TIP: If your opponent gets too far away during a Cage Match, try for an exit. You may have time and get the win.
TIP: You can get off a bunch of Stomps while your opponent is on the mat.
TIP: When a wrestler runs at you, throw him with a Hip-Toss by hitting Button B just before impact.
2017-07-17 Wrestling Federation: Rage in the Cage game added.

X
Next game:
Download Shining Force CD