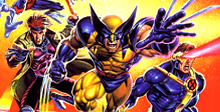 X-Men
by Western Technologies Inc.
X-Men is an arcade game developed by Konami and published in 1992. The game is a side-scrolling beat 'em up game featuring the same characters as the popular movie and comic series. The game was published for several platforms and sequels of it are still in development. There are six playable characters: Wolverine, Colossus, Cyclops, Storm, Nightcrawler or Dazzler, and all of them have the same objective: stopping the evil Magneto from provoking havoc to the human population. Before fighting with Magneto, they have to defeat other smaller enemies, such as Sentinels. The game was really fun, enjoyable, praised for its good graphics and gameplay, and is still considered a classic worthy of getting a run sometimes.
2006-04-30 X-Men is based on the Marvel comic book series.

X
Next game:

Download Luxor: Amun Rising