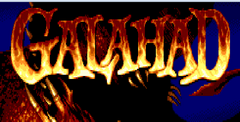 Legend of Galahad
by Taito
As Galahad you are charged with rescuing the Princess Leandra from the clutches of Miragorn Cimmerian. Twenty-one levels of bold and chivalrous adventure should keep you busy for a while. To add to the challenge, you have to satisfy objective at every stage, before you can proceed to the next level.
Although you can choose the Training mode to give you easier game, you will not to go beyond the first world. To play through the entire game, you need to set the difficulty level to Normal or Hard. While we liked the overall' graphic quality, we thought the background graphics lacked detail. We also thought the character movements were too limited.
If you like Legend of Galahad, try other games: Galahad.
2017-08-23 Legend of Galahad game added.

X
Next game: