Air Warrior 3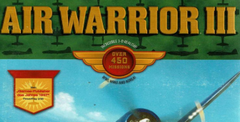 Developer: Kesmai Corporation
Genre:

Arcade/Action

Originally on: Windows (1997)
Works on: PC, Windows
Editor Rating:

User Rating:

9.0

/

10

-

2

votes
Rate this game:

Game Overview
I'll Confess: I Almost Dismissed This little oddity within my first five minutes of play. The graphics were crude by today's standards, the interface redefined the word 'clumsy', and it comes from a company that hasn't been having the greatest time lately. And had I gone with my initial gut feeling, I may very well have missed out on one of the most truly great gaming experiences I've ever had the pleasure to encounter.
What you need to know about playing AWIII
Primarily a WWII sim (although you can stray into the First World War and the Korean conflict if you desire), AWIII has been designed to cope with hundreds of players at once, all fighting three different countries. There is a phalanx of single-player missions included with the game that, although playable, never reach the heights of excellence other, dedicated single-player games do.
There's also a very clumsy interface to negotiate; or at least that's how it appears at first. After a few hours' play, you start to realise that what Interactive Magic have done is to go for something functional rather than attractive. It revolves around typing in commands at a Quake-style console, and I honestly can't see why they couldn't simply have gone with the traditional keystroke command system used by, ooh... everyone else.
However, when you do stray on-line, AWIII is beyond superb - up-close and personal dogfighting, with humans all around you, some allies, some enemies. There's no other game like it. The radio communication system is superb, and crewing multi-seat bombers, with different players manning the different gun positions and communicating vocally via microphones, is so intense an experience that words can't describe it. Everything about the multi-player game works so superbly well that it's a real shame I'm going to have to put a downer on things.
What you need to know to play AWIII
All of the above comes at a price though. Several prices, in fact. First there's your sleep pattern. At the time of writing, I can't speak for how well the UK LineOne server works as it isn't yet running. I've had to play on an American server, and consequently have had to wait till the midnight hours before it really starts to liven up. Hopefully LineOne will prove just as popular with UK and European gamers, but that's up to you.
Secondly, this is a subscription game service. I was fortunate enough to be connected to a beta test site which was free of charge (in exchange for the occasional bugs, patch upgrades and other pre-release tweaking). But had I been forced to pay a regular fee for the game, I may not have been quite so enthusiastic about things. Personally, I feel that Internet games should be free - when you've already paid upwards of 30 quid for the game, you shouldn't be expected to pay more each time you turn it on.
The single-player game isn't quite good enough to warrant a Classic rating, and the fee-based multi-player set-up rankles the anti-establishment anarchist inside me just enough to stop me from giving it a higher score than the one I have. Which is a shame, because Air Warrior III is one of the best multi-player games I've ever played. And that includes Quake II.
Download Links
System Requirements
Processor: PC compatible,
OS:

Windows 9x, Windows 2000

Windows XP, Vista, Win 7, Win 8, Win 10.
Game Features:

Single game mode
Air Warrior 3 Screenshots