Assassin's Creed IV: Black Flag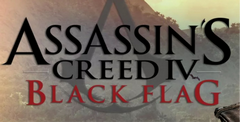 Developer: Ubisoft
Genre:

Arcade/Action

Originally on: Windows (2013)
Works on: PC, Windows
Rate this game:

Game Overview
The Assassins, the organization of stealth assassins who have fought for centuries against the oppression of the Templar Order, continue their fight in the new stealth game - Assassin's Creed IV: Black Flag. Try on the role of the stealthy and best pirate of your time and conquer the seas, even if it's just a memory.
## Yo-ho-ho and the Templar showdown
In Assassin's Creed III, Desmond Miles sacrificed himself, thus depriving Abstergo Industries of the ability to look into the past of the Assassins. However, the company kept the remnants of Desmond's cells, which helped restore the research and connect to the Animus. This time, an unknown subject sends his mind into the life of one of the most famous pirates of the Caribbean, Edward Kenway. Sea, adventure, and a Templar conspiracy to be uncovered by the Assassin's Association.
## Accidental involvement in non-accidental events
Edward was not an assassin, but found himself drawn into the thick of things by accidentally killing an assassin-traitor. He is not an accidental assassin, but was dragged into the middle of events by accident when he killed the rogue assassin. It was the pursuit of Bartholomew Roberts that led Edward to the unnoticed war between the Templars and the Order of Assassins. Although Edward himself is not a real pirate of the past, you can find characters in the game that embody real famous pirates:
Edward Teach (Blackbeard)
Charles Vane
Benjamin Hornigold
Anne Bonny
Mary Read
The Templars seek the ancient Observatory and use pirates of the Caribbean to cloak their research. Only pirates and assassins are free enough to oppose an order that rules the states from the shadows. Edward is a representative of the two free worlds, and only his seamanship and acquired assassin skills will help thwart the evil order's plans.
The pirate era is gone, but the problems remain
These days, the reborn Bartholomew Roberts is going to use both the Templars and the Assassins for his plans for the Animus. A newcomer who can only browse the memories of a legendary pirate is unlikely to be able to stand up to such an opponent, but with your help, things can change.
9
Ships, the endless canvas of the sea, and the feeling of freedom are what drove people to the pirate's life. However, not everything is as fabulous as the movies show, because there is no place for romance and fairy tales in the world of Assassin's Creed. The Templar Order is up to something again, don't let Desmond's sacrifice go to waste in the killer organization's new adventure, Assassin's Creed IV: Black Flag.
System Requirements
Processor: PC compatible,
OS:

Windows 9x, Windows 2000

Windows XP, Vista, Win 7, Win 8, Win 10.
Game Features:

Single game mode

Multiplayer (Hotseat, LAN, Internet)
Assassin's Creed IV: Black Flag Screenshots