Axelerator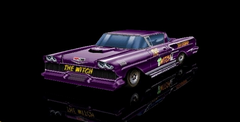 Developer: Synetic GmbH
Genre:

Racing

Originally on: Windows (1997)
Also known as: Have a N.I.C.E. day!
Works on: PC, Windows
Editor Rating:

User Rating:

8.0

/

10

-

1

vote
Rate this game:

Game Overview
Automobile-Based Violence Has been in the news rather a lot of late, so it's perhaps in dubious taste to have a racing game that deals in it. Then again, Axelerator has nothing to do with knifing somebody in the heart because they wouldn't let you overtake them in your really fast car, or battering them to death with a ten pound bag of frozen kippers because you let them pull in front of you at a queue and they didn't say thank you. So it's probably alright. And who cares about good taste anyway?
Lack of flipper-orientated action shock
It's from 21st Century. But, casting aside the tradition of generations, it has nothing to do with pinball games. This is a shock to the system that could only be surpassed by Brookside doing an episode containing no irritating Scouse characters. Ignoring shouts from the back for a tilt function, they've gone instead for one of those drive like billy-o, shoot-the-shit-out-of-anything-that-gets-in-your-way, sort of things. There are 24 different tracks to choose from, located more or less all over the world, with widely varying terrain. One even has a Matchbox Superfast-style loop-the-loop section.
(Except the track isn't bright yellow.) There are all sorts of interesting things you can buy to help you lighten the traffic on our roads. Some of them are less helpful than others. In the less helpful category, for example, there's a furry tail to hang on your aerial. Apparently this is still popular in Germany, although it went out of fashion in England in about 1467. (Then again, that's true of most things... like really tight black trousers with white socks and toe-length slip-on loafers, for example.) You can also buy a Pez dispenser, which is... well, alright, it's not useful, but it's more acceptable. And then there's all the very useful (ie highly destructive) stuff that most people would give an arm and a leg to use against the average sales rep on the motorway: machineguns to riddle the back of their Mondeo, magnetic mines to attach to their shiny suits, and heat-seeking missiles to zoom in on their red-hot mobile phones. You can see the full list elsewhere on these pages. (By the way, the version we had was still in German, if you're wondering about some of the names.)
There's the traditional arrangement for a game of this type: do well in the races, and you win prize money which instead of using to get out of the whole thing and take up tv sitcom production you use to buy better cars and weapons, to do better in the harder races, to win more money, to spend on a better car... Somebody ought to point out to the drivers that all they're engaged m is a more fast-moving version of the old factory shop system, without the coal dust. Oh, there are three different cars, by the way - and they're all big American buggers: Chevrolets, Mustangs and Hellcats, to be specific.
If they get it right, it could turn out to be a bit of a laugh, turning the average race into a sort of cross between the Wacky Races, a Love Bug film and Apocalypse Now. If they get it wrong, of course, it won't. We'll know soon enough. Try to be patient.
Staff to shoot
These are the things you can use to shoot at other people:
Normal Machinegun
If any machinegun could be said to be a normal thing to have, then this would be it. Useful for shooting bullets at people, one after another, very quickly.
Emp Rockets
Rockets which turn their victim into a European Member of Parliament. Either that or they disable the electric system of the car they hit for 20 seconds. It must be like driving a Lada/Skoda/Yugo/Trabant. (Delete as appropriate to form anti-Eastern European car of your choice joke.)
Raketen
Heat-seeking rockets, which don't do anything particularly sophisticated -except follow opponents' cars to the ends of the earth if necessary and blow the shit out of anything they hit.
Download Links
System Requirements
Processor: PC compatible,
OS:

Windows 9x, Windows 2000

Windows XP, Vista, Win 7, Win 8, Win 10.
Game Features:

Single game mode