Battlefield 1942: Secret Weapons of WWII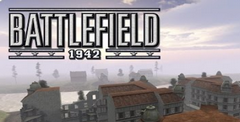 Developer: Digital Illusions CE AB
Genre:

Arcade/Action

Originally on: Windows (2003)
Works on: PC, Windows
Editor Rating:

User Rating:

8.3

/

10

-

8

votes
Rate this game:

Game Overview
Desperate times call for desperate measures, and with massive enemy armies swelling across two fronts, supplies down to a trickle and a civilian population close to panic, there was no more desperate time for the Third Reich than the closing months of WWII. Unless the German High Command could create a weapon so devastating its mere presence would rout the enemy, the Nazi regime was doomed. So they unleashed the Natter, a jet fighter so fast nothing in the sky could touch it, loaded with rockets that could decimate entire squadrons of bombers in one pass. Unfortunately taking off was impossible without specialised ramps. Landing was out of the question and, in the air, by the time the enemy squadrons were spotted, they were usually in the rear-view mirror. Doh!
Novelty Bag
It may seem a curiously out-of-place contraption to add to Battlefield 1942'3 already exhaustive line-up of vehicles, ships and aircraft, but the developers have seen fit to base this, their second expansion, on WWII's more interesting war machines, most of which never got off the drawing board let alone the ground.
To complement the novelty of taking to the skies aboard a giant boomerang, the developers have also included a number of weapons and vehicles that, in hindsight, I wonder how we ever got by without. Proper British weapons are added at last, as well as a stealthy commando raft and the wonderful motorbike and sidecar. The Engineer class is much more useful too, with the Allied sapper able to equip a shotgun, while his Axis equivalent now has a grenade rifle as part of his arsenal.
Secret Weapons is not for everyone: fans hoping for added realism will see the game's more experimental curios as novelty items - which they are to some degree, yet they require a level of skill to master that will challenge even veteran Battlefield players. It could also be argued that with rockets, heavy artillery and grenade launchers going off, the humble foot soldier has been overlooked. To which we say if you want pitched infantry battles buy The Road To Rome. Secret Weapons is where the machines take over.
Single Issues
Our biggest concerns are with the single-player game. The Al transformation from being laughable to acceptable is admirable, but seeing as these maps are made for 32-plus players, having computer bots filling the player slots often slows the game down to a crawl. The Al follows narrow paths through the various maps and, while their aim has become more realistic from the original game, the challenge isn't in beating the enemy but learning the lay of the land.
What we like best is the fun factor. Whether intentional or not, Secret Weapons is laugh-out-loud funny to a far greater degree than the grim realism of say Road To Rome's Monte Cassino level. The variety of the maps also merits a special mention, with objective-based missions on a par with Enemy Territory and missions where amphibious vehicles often hold the key to unlocking an entrenched enemy. All in all, this expansion is suitably different from the last add-on to warrant purchasing, but -as if you needed reminding -only if you play online.
Download Links
System Requirements
Processor: PC compatible,
OS:

Windows 9x, Windows 2000

Windows XP, Vista, Win 7, Win 8, Win 10.
Game Features:

Single game mode
Battlefield 1942: Secret Weapons of WWII Screenshots