Championship Manager 5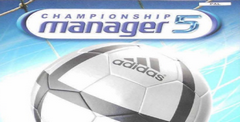 Developer: Beautiful Game Studios
Genre:

Sport

Originally on: Windows (2005)
Works on: PC, Windows
Editor Rating:

User Rating:

10.0

/

10

-

1

vote
Rate this game:

Game Overview
The world of football is riddled with off-the-pitch incidents, be it missed drug tests, illicit bungs, fan-baiting betrayals or bed-hopping antics - and that's just in the closed season. Football's accompanying scandal is arguably one of the factors that keeps the sport interesting, allowing it to migrate from the back pages to the front with all the ease of Wayne Rooney scoring (in a toilet or otherwise).
To date though, the world of football management games has been relatively controversy-free. Sports Interactive's long-term deal with Eidos saw a steady supply of successful Championship Manager games, and it seemed that all was well in the world of make-believe. However, last year SI rocked the football management world to its rafters by failing to sign an extension to its Eidos contract, a momentous decision that stunned the legions of fans. In tabloid speak. SI issued a 'come and get me' plea to rival publishers, which was eventually heeded by Sega, who will publish the next game from the veteran developer under the name Football Manager 2005.
Of course, this left Eidos with the biggest name in the business, but without an actual game. Behind the scenes though, preparations were already being made for the inevitable bombshell, with the formation of Beautiful Game Studios, situated barely more than a few errant goal kicks from the SI office. Employing some 30 people, it's a professionallooking outfit, as emphasised during ZONE'S obligatory tour of the building, where we met such luminaries as the head of logic. Whatever the team are doing, they look busy (although for all we know they could be staring into the hollow abyss of their monitors while downloading brutal Eastern European pornography).
Revolution No 5
What they're being paid to do is develop Championship Manager 5, the next incarnation of the definitive football management game. Something of an onerous task, it's a bit like getting the Bootleg Beatles in to record the follow-up to The White Album.
Understandably, the size of the job in hand hasn't been lost on executive producer David Rutter. "It's a huge undertaking." he admits. "Terrifying and exhilarating at the same time. It's completely mad just getting your head round it really. You play it and play it and play it for years and you still don't really appreciate what's in there. It's an absolute monster. But we haven't cut corners -we've not gone out of our way to turn it into a plastic-fantastic eye-candy version of nothingness. It's utterly, utterly focused on being what it's always been, rather than turning it into a namby-pamby affair. That's what we're all proudest of - that we managed to resist all the kind of niceties that we could have gone for."
Need For Speed
What the team has done is take a long hard look at Champ Man - with the aid of some focus groups - and set out to improve the areas that were lacking. While CM 03/04 is still monstrously addictive, it is cripplingly slow, and this is the first area that BGS set out to tackle.
The team has been promising a significantly quicker game, and we can now confirm that we've seen it with our own eyes. Even with all 25-plus leagues loaded, the game was up and running in under a minute. By comparison, the equivalent task in CM 03/04 would not only have given you time to make a brew, but also to nip to Argos for a new kettle. Obviously, there's the suspicion that there's nothing going on under the bonnet, but a cursory glance revealed all the key elements to be present and correct. Furthermore, every area of the game can be accessed while matches are being processed, something that never really worked in previous CMs. It's a phenomenon that's already been dubbed 'constant gameplay', and should make for a measurably swifter experience.
Elsewhere, the match engine now appears with a tilted viewpoint, enabling the height of the ball to be better judged. It will be possible to view a full match, or whizz through it at double speed, six-speed or 60-speed. Of course, a proper highlights mode is the only acceptable way to watch the action, and while it wasn't in the version we saw, we were promised that it was 'upstairs'. Areas such as scouting, tactics and training are also being overhauled, with the help of Chartton Athletic coach Mervyn Day, who's been giving the team a useful insight into the machinations of running a professional football club.
Although it's impossible to tell how deep the game is at this stage, BGS is taking an admirably hardcore approach. As Rutter says: "From the outset, our mantra was 'simulation first, game second', and that's what it's about. It's not about zapping aliens or thrashing your mate via a bicycle kick. It's about divorces and relationship break-ups, stubble, cigarettes in ashtrays and piles of coffee cups." If BGS manages that, CM5 can be considered a true sequel.
Download Links
System Requirements
Processor: PC compatible,
OS:

Windows 9x, Windows 2000

Windows XP, Vista, Win 7, Win 8, Win 10.
Game Features:

Single game mode
Championship Manager 5 Screenshots