City of Heroes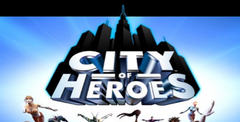 Developer: Cryptic Studios, Inc.
Genre:

Adventure

Originally on: Windows (2004)
Works on: PC, Windows
Editor Rating:

User Rating:

9.5

/

10

-

4

votes
Rate this game:

Game Overview
Arguably the game with the most engrossing character creation system in existence, City of Heroes has changed a great deal since its release in early 2004. No less than 14 updates have been made, as well as integrating the City of Villains spin-off that was a separate game at first. The key here is that in the four years it's been going, this MMO has had one paid-for expansion, but more content added and fair-minded, wide-ranging tweaking than any other.
While the original game was accessible, silly fun, it lacked on release (and for some time afterwards) variety, and fast became a repetitive slog. NCsoft combatted this by continuously releasing new content in the form of Issues.
Rather than going down the weak man's path of tweaking the occasional thing, NCsoft chose to completely revamp zones, add new power pools for higher levels, and even let players beat the bejesus out of each other in PvP zones of all shapes and sizes.
Battling Capes
The most notable of these are the Coliseum (a PvP zone that let heroes slap each other about), and Bloody Bay, Siren's Call and Warburg, that are complete free-for-alls between heroes and villains. These zones, much like Warhammer Online's RvR areas and Lake Wintergrasp in World of Warcraft: Wrath of the Lich King, have missions to complete, but also the constant worry of your nemesis coming to ruin your fun. This opened up both the competitive aspect of players beating each other up, and the ability for roleplayers to finally live out their fantasies of dominating somebody with quips and spandex.
In fact COH has rather embraced its Diablo 77-esque grinding, allowing players to repeatedly play some missions using either the Newspaper (villains) or Police Scanner (heroes) and the rewarding, multi-instance group missions (Task Forces). You can also look forward to replaying some rejigged content, like the Ritki Crash Site (that's now a huge war zone with a raid boss in it) or trying some bizarre missions, such as time travelling back to Ancient Rome. These also (using the Flashback system) let you replay through content that you've levelled past, a bit like the Caverns of Time from WOW, without the need to have a team of nutcases who know the game better than their own families.
On top of this, there's now a crafting system, in the form of inventions. These let you salvage parts from fights to create exclusive costume pieces and even exclusive enhancements. However, the most interesting update for COH in a while - hell, we'd argue most MMOs - is Architect. When it's released in its entirety (it's coming in two parts in Issues 13 and 14) Architect will let players create their own missions using versions of the tools that the game's developers use. It's more creatively driven, meaning that players can't make a mission where you kick a granny and loot a Reality Bomb, but it's worth playing for the rewards you get (which are in line with average missions) and the fact that there are some truly creative players out there. It's one of the first attempts to bring modders into the MMO industry (the risible Saga of Ryzom aside) and it's exciting to watch how far it can be stretched.
NCsoft are also letting players buy booster packs, including new costumes, auras and powers. While drawing COH close to the Asian real money transaction model, these are meant to be aesthetic additions, and from what we can see won't be affecting the game on a larger scale.
What you should know if you stopped playing COH is that while the main body of the game is about beating the shit out of criminals, the amount of variety makes up for it. In a way eerily similar to Diablo II, you forget that you're doing the same thing again and again as it's presented in different ways, and you're invariably accompanied by a large group of bizarrely imaginative (or just bizarre) people.
City of Heroes is certainly a game worth returning to, at the very least to see some of the stuff that will be created by players using Architect, and to give it a go yourself. The ability to author your own missions has a bit of an Evil Genius feel to it, and with a team of friends to battle through them, you might just grasp a glimmer of sandbox joy from this still sparkly box. That, and it works on just about any PC that can produce a polygon, even with the upgraded graphics. So go on, have a swing.
Download Links
System Requirements
Processor: PC compatible,

P-100
OS:

Windows 9x, Windows 2000

Windows XP, Vista, Win 7, Win 8, Win 10.
Game Features:

Single game mode
City of Heroes Screenshots