Corruption of Champions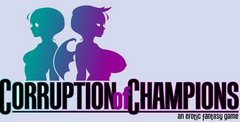 Developer: Fenoxo
Genre:

Arcade/Action

Originally on: Windows (2020)
Works on: PC, Windows
Rate this game:

Game Overview
To go to the place of sacrifice and even enjoy such a role will succeed in the textual role-playing erotic game - Corruption of Champions. Survive in the new world and not become a tidbit for the demons - the main task, failing to cope with which will also be good.
Demonic World
There are actually many worlds. Among the countless galaxies, planets, and realities there is the world of Mareth. The world of lust, anger, greed and all the hidden desires. The world of demons.Because of spatial discontinuities, many portals lead to the world of Mareth. But none lead back.
Humans are worse than demons
Once upon a time, humans, a group of wizards whose magic could help them survive, entered the demon world. But even the wizards couldn't find their way back, their personalities distorted and their magic blackened. One of them, Lethice, became a demon queen and set all the other worlds one condition. Either they sacrifice an innocent soul - or they are enslaved by a demon army.
Sacrifice for salvation
The champion of the village of Ingnam has been chosen to make a sacred sacrifice to the demon. The player acts as this champion and makes his way into a world of demons who want to tempt a new soul by any means necessary. Will sanity stay with the Champion and be able to survive an audience with Lethice?
What does the main character look like?
Before starting the journey, the player is given the opportunity to change the appearance of the hero, choose his race and specialization. The choice of gender affects only the erotic scenes. However, the combat system is turn-based, so the choice of class can be an important element. The champion can choose from:
White Mage
Black Mage
Warrior
Thief
Archer
All specialties affect the distribution of characteristics and affect the course of combat. Battles take the form of text, which describes how much and what kind of damage inflicted by the opponents. If the fight is lost - the enemy rapes the hero. But if the hero wins - only the player decides what to do with the defeated opponent.
System Requirements
Processor: PC compatible,
OS:

Windows 9x, Windows 2000

Windows XP, Vista, Win 7, Win 8, Win 10.
Game Features:

Single game mode

Multiplayer (Hotseat, LAN, Internet)
Corruption of Champions Screenshots