Dark Side of the Moon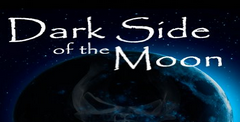 Developer: SouthPeak Interactive LLC
Genre:

Adventure

Originally on: Windows (1998)
Works on: PC, Windows
Editor Rating:

User Rating:

8.0

/

10

-

3

votes
Rate this game:

Game Overview
Jason Brooke may not be a name that immediately springs to mind during your morning contemplation and corn flakes, but this is a man who's been doing solid work, quietly and efficiently, within the computer scene for a good number of years.
During the heady 8-bit days, Jason worked with Binary Designs. He wrote Miami Dice, Death Com and Feud. He also teamed up for a short period with music impresario, Dave Whittaker, as part of a company to generate music for games for practically every single games format around. He then went on to Zippo Games, which produced titles for those console specialists, Rare. Eventually, Jason decided to go it alone. His first major title was for Runcorn-based, Digital Image Design, the conversion of Retaliator for the pc. This project was more than a mere port, though, for it took Jason over 18 months to do and, in effect, was a highly upgraded version of the original game.
For the last three and a half years Jason has been working on Darker Side of the Moon (Darker). A long time for a game, sure, but one of the reasons for this, apart from ensuring the public gets a great game, of course, is that Jason has constantly tried to keep pace with the latest technology. Very difficult. These days it seems to be that programmers only have to spend an extra five minutes in the loo, only to be confronted with yet another new pc standard the user "must have", when they arrive back at their desk. Hence, Darker started development on a 286 and is currently sitting on a 486.
Problems, problems
The problems with graphics cards and sound cards have proved to be quite a nightmare, but it appears that everything has now settled down (well, sort of). The protracted development may be a reason why Darker appears to be so techi-friendly. For example, whether you own a 486 or a 386, your pc will automatically optimise the game to the add-ons you have. A faster machine will not make the game run any faster, but it will ensure that the graphics display is more fluid. Auto-optimisation is an extremely welcome feature in a pc world that requires its users to be "tweak experts".
Darker is the culmination of many years of wanting to write a very special 3D game, which encompasses a career of mounting ideas. Jason Brooke described he plot...
...And this is how it goes
"Based on a futuristic planet, you take control of a number of differing craft in a multiple-mission game. There are two sides to the planet - two different races. One, the Delphi, whose side of the planet has always been in total darkness, and the other side, the Halons, who once had light, but messed up and are now also in total darkness."
"Up until the disastrous events that overtook the Halons the relationship between the two sides was fine. Previously, it was a good life in the Halon sector because the government rewarded the people with "craft", which looked a bit like a family car. However, when things went wrong, the people started to do their own thing and broke the rules - one being to transgress to the Delphi section."
"You assume the role of a Delphi character and find that your environment is being overridden by the invaders from the other side, who steal and pillage. The technology in your world is quite advanced and the landscape is littered with energy beacons which charge your craft and keep them airborne through the energy they emit. So, in effect, you have always been limited to flying within the zone you live."
"The conflict, and hence the basis for the game itself, starts when these beacons and buildings are targeted by the enemy." "The beauty of the game," continued Jason, "apart from having a number of varying objectives, (like flying an assortment of craft, all with varied weapons that you must learn to use when you move to the other side of the planet), is that you have a completely new environment, which gives the game a broader feel and portrays a different immersive experience. Once there, there are more craft and many other assorted arrays of weapons, which conjures up a completely different game. We have tried to utilise the three-dimensional effect to its full potential and have also added film sequences and cut scenes. We've made sure that these sequences are not there just for a cosmetic purpose. There will be no excess disk accesses - the game itself is the most important feature. There is nothing more frustrating than having to wait for disk loading when you want to keep playing. It really is a fine balance that we have worked on." "The craft you fly are not like the ones from a full-blown sim, so they don't require the player to have the high technical proficiency that would normally be required, but, saying that, things are not easy and there is a lot to do. The actual flight model is very sophisticated in its feel, its aerodynamics and the way it flies."
State-of-the-art stuff
The graphical display encompasses all the' current state-of-the-art features, such as light sourcing, Gouraud shading and polygons. Jason is extremely pleased with some of the effects. For instance, the beacons glow and illuminate only the surrounding area. The detail becomes clearer as you move towards an area that is lit.
Darker Side of the Moon is, as the name suggests, a very moody-looking program, which is exquisitely conveyed by the varying light and graphical differences.
VR Arriv...?
Not only does Darker sound interesting in itself, but this interest is heightened even further by an additional feature, which will please all closet VR enthusiasts. Psygnosis has announced that the game will incorporate a patch to enable it to work with the VFX Virtual Reality headset. This gives the game an even more appealing and immersive feel. Jason justified the use of the VFX helmet. Initially, just like many other developers in the industry, he thought that the VFX was "nowt but a gimmick". However, when you don the helmet and start tracking left and right, it really does enhance the gameplay.
With a Gravis pc game pad, a macho sound card, plus the helmet, you have your very own VR world.
Download Links
System Requirements
Processor: PC compatible,

P-100
OS:

Windows 9x, Windows 2000

Windows XP, Vista, Win 7, Win 8, Win 10.
Game Features:

Single game mode
Dark Side of the Moon Screenshots