Grand Prix Legends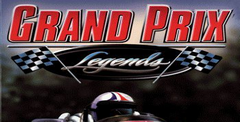 Developer: Papyrus Design Group
Genre:

Sport

Originally on: Windows (1998)
Works on: PC, Windows
Editor Rating:

User Rating:

8.7

/

10

-

3

votes
Rate this game:

Game Overview
In general, the received wisdom is that the olden days were great. Music was better, football was better (despite being played by chain-smoking pissants) and, of course, motor racing was better, allegedly enjoying some kind t mythical golden age. Untainted by multimillion-pound corporate sponsorships and gratuitous endorsements, racing was pure, a marriage of man and machine in a battle against an unforgiving - and often lethal - race track.
These days, of course, the sport almost resembles a parade of 200mph cigarette packets, with victory clearly going to the best car, as the numerous recent successes of Mika Hakkinen would appear to confirm.
That's what they want you to think anyway, and Grand Prix Legends is the antithesis of the anodyne world that is today's GP circuit, taking you back to the aforementioned golden age. The year is 1967, the season before compulsory aerofoils were brought into play in order to make racing safer. Back then, the cars were pretty much rockets on wheels, derring-do prevailed over aerodynamic ergonomics, and violent death was more of an occupational hazard than a tragic accident. Spectators also clearly attended at their own risk, as beheading was a real possibility, with great swathes of the crowd often eliminated in spectacular fashion.
Hill Behaviour
Due to the portentous title of the game - and the lack of any tangible information - we mistakenly assumed that Grand Prix Legends would be some kind of fantasy affair encompassing true legends of the likes of James Hunt, Niki Lauda, Ayrton Senna, Alain Prost et al. What we actually have is simply the 1967 Grand Prix season, and although Graham Hill (no relation), Jack Brabham, Jim Clark and John Surtees are clearly up there among the greats, can, say, Richie Ginther really stake a claim to being the last of the famous international playboys?
Whatever, the 1967 season it is, recreated in frighteningly authentic detail, to the extent that several members of the development team had televisions mounted by their computers, running a video of the quintessential late-1960s racing film Grand Prix, a movie that provided a lot of inspiration for the game. They have certainly succeeded in capturing the romantic feel of the era, encapsulated by cigarette-shaped cars, flamboyant facial hair and rudimentary safety precautions. All of the tracks - some of which no longer exist - have been replicated as accurately as possible (some constitute little more than public roads adorned with a couple of bales of hay), making for a real seat-of-the-pants experience.
Car Trouble
The actual cars - Ferrari, Brabham, Lotus and so forth - have also been extensively modelled, and the handling is unforgiving to say the least.
Grand Prix Legends is clearly entering the realms of the serious simulation, and anyone seeking instant arcade thrills would be advised to look elsewhere (an arcade, perhaps?). Mario Kart this isn't. It's an immensely difficult game to master, and at first the slightest tweak of the wheel inevitably leads to a violent spin. This definitely isn't a game you can get to grips with in your lunch hour, drunk or otherwise.
Incidentally, do not even consider playing Grand Prix Legends with a digital controller; this is one case where analogue rules. It's just about playable with the keyboard, although there's clearly no dignity in this course of action, but for the full effect a decent steering wheel is recommended (we found the ThrustMaster Grand Prix I pretty useful).
Absolutely no quarter is given; braking has to be spot-on, and accelerating into each bend is a must. This inevitably leads to numerous crashes, which can prove frustrating but ultimately inspire you to try harder. To make any kind of progress, you have to drive on an absolute knife-edge, pushing your car to its limit. The racing line has never seemed more important (apart from the Channel Four horse tips programme of the same name) and clinging to it is essential, not only to make good time but simply to stay on the track. Grand Prix Legends is a commitment, and weeks of constant play are essential in order to become anything approaching competitive. Concentration is imperative, with the slightest intrusion of inane banter enough to have you slewing all over the road.
Only The Lonely
So, we've established that it's a bit tricky. This is a trait of all Papyrus games, though, as the IndyCar and NASCAR titles confirmed, proving almost unplayable by all but the most dedicated of gamers. Papyrus have clearly set their stall out with Grand Prix Legends, as a glance at the car set-up options confirms, featuring all manner of drivetrain adjustments, suspension tweaks and tyre pressure tomfoolery that only the loneliest of men would dare investigate. If you're the kind of player who struggles to decide what colour buggy you prefer, this may be a little too daunting. For the hardcore fan, though, the rewards are legion. Having achieved some kind of competence, it's an immensely satisfying game, and earning your first Grand Prix points is a truly momentous occasion. Graphically, it's clearly up to scratch, but it's the little touches that make the difference, such as independent suspension and the car leaving the ground when negotiating a rise. It really feels as though you're there, and the cockpit mode is utterly terrifying, with the fear kicking in as soon as a rival car is spotted in your wing mirror.
Once mastered, it's a very exciting game, and there is a definite adrenaline rush to be had in tearing around some tracks that have clearly not been designed with safety in mind. Once you've got past the stage of crashing every ten seconds, the game will suck you in, and the World Championship becomes an enthralling ongoing saga, with a comprehensive replay mode enabling you to watch the action from any car and any angle.
So, Grand Prix Legends is very hard. But if you can handle the pace, it's rock 'n' roll, it's Steve McQueen... it's a very good virtual reality computer game.
GPL takes you back to 1967, a time when corporate sponsorship was yet to rear its ugly head, and today's highly powered hi-tech aerodynamics technology was but a twinkle in the eye of the would-be Grand Prix heroes of yesteryear. Responsibility for the creation of this unique sim has been put in the capable hands of Papyrus (the creators of Indycarand Unseat), who claim to have created a fully 30 engine which they say will "redefine the limits of vehicle dynamics modelling on the PC''. For extra realism, GPL will feature the first 30 cockpit ever to appear in a racing sim. This feature is normally only seen in top-end flight sims, but it makes perfect sense to use it in a driving slm, given the increased field of vision it will give you. The now obligatory 3D card support expected (and demanded) by discerning gamers will be present, and with Papyrus behind the wheel of the project (as it were) we expect GPL to become a driving force (That was terrible - Ed) when it's out in August.
Download Links
System Requirements
Processor: PC compatible,
OS:

Windows 9x, Windows 2000

Windows XP, Vista, Win 7, Win 8, Win 10.
Game Features:

Single game mode
Grand Prix Legends Screenshots