Grand Theft Auto V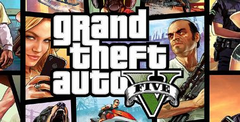 Developer: Rockstar North Ltd.
Genre:

Arcade/Action

Originally on: Windows (2013)
Works on: PC, Windows
Rate this game:

Game Overview
Welcome to Los Santos and its lead, coke and blood-saturated life. One story and three protagonists await in the iconic RPG shooter - Grand Theft Auto V. There are no limits in this game, let your criminal self get out there and have a blast in the most badass fictional city.
Welcome to the world of crime
Los Santos is a hotbed of crime and illegal business. The huge city is full of outstanding personalities and that's who we get to play as in the fifteenth game of the Grand Theft Auto V series. The prologue will take the player to the past, where Michael Townley and Trevor Phillips and his gang are involved in a bank robbery. There, too, the game teaches basic mechanics and prepares for future jobs.
These heroes don't wear capes
After the flashback comes another non-dusty job for Franklin, a regular kid from a dysfunctional neighborhood. Franklin's a great car thief, and he's just as good at it. While Michael and Trevor share the same criminal past, Franklin is introduced to a dangerous life of crime entirely by accident. However, he enjoys becoming part of the plans of former successful criminals who have taken up the cause again.
Three Characters, One Robbery
The main screen stars throughout the game:
Franklin - Has an ability that speeds up cars. Useful in carjackings and missions where dexterity is needed. The faithful dog Chop can diversify the gameplay and find interesting things or people.
Michael DeSantos is a former Townley wanted a quiet life without crime. However, life as a family man was a bore, so why not spice it up by robbing a jewelry store? His ability to slow down time in combat is perfect for the most accurate shots.
Trevor Phillips is an insane drunkard and anarchist. A drug dealer and just a charismatic unstable man. When he's on a rampage, not even half a clip will do him mortal harm. Dangerous business? Call him.
Share the absurdity with your friends
An open world and three heroes you can switch between at any time. One dangerous case for three and a whole huge list of extra missions to complete. But that's not the end of Grand Theft Auto V, either. Discover multiplayer mode.
Create your own character, become the boss of an organization, recruit real friends or random players there. Tuning and improve cars, buy weapons for shootouts. Complete missions in real time, compete in the weirdest modes and just enjoy the general madness.
10
Bright satire on modern American society, three main characters with their own fates and characters. And a huge multiplayer world where you can meet the heroes from story mode. Grand Theft Auto V keeps players at their screens with freedom of action and rich content. You decide what to do and where to go, the game only offers options.
Grand Theft Auto V is an action-adventure game with great freedom of action, where the player will become one of three adventurers and seek adventure in a fictional U.S. state. One of the most popular game series in the world. Sales of this game are staggering - millions of copies.
Our generation has played Grand Theft Auto: Vice City and Grand Theft Auto: San Andreas in our childhood. Guys killed hours of their time playing these immortal classics. They would go in and shoot drug dealers, watch strippers, steal cars, and run from cops.
Characters and location
The player will find himself in the modern United States of America. The city in which the gameplay unfolds is a copy of Los Angeles. The user will be able to experience the joys of gang life from three tough guys:
Michael de Santa. A crazy criminal who looted safes. He really learned it and put the skill into practice many times.
Franklin Clinton. Twenty-five-year-old guy with black skin. Unlike Michael, Franklin is very decent and still lives with his parents. Wants to earn a car.
Trevor Phillips. A real professional in the military. But professionalism ended as soon as Trevor made himself a total drug addict. Now, with the drug substance coursing through his veins, he's dealing illegally.
Gameplay
The player is involved in carrying out the insidious plans of three conspirators to rob rich people and places where money is stored. You will have to perform dirty tasks that lead to wealth and pleasure.
The player controls a third-person character. The character is able to shoot any weapon, drive a car, swim, climb. Huge features, up to and including sports games. Many people call GTA V a life simulator - this statement is close to the truth. You can even use the phone and call your in-game friends.
8
Grand Theft Auto V is an iconic game whose gameplay is gaining millions of views on YouTube. Interesting quests, huge features and modern graphics make the game very powerful. We recommend it to fans of Red Dead Redemption 2 and Fortnite.
System Requirements
Processor: PC compatible,
OS:

Windows 9x, Windows 2000

Windows XP, Vista, Win 7, Win 8, Win 10.
Game Features:

Single game mode

Multiplayer (Hotseat, LAN, Internet)
Grand Theft Auto V Screenshots