GTR: FIA GT Racing Game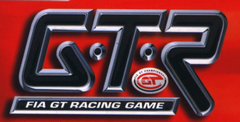 Developer: SimBin Development Team AB
Genre:

Racing

Originally on: Windows (2005)
Works on: PC, Windows
Editor Rating:

User Rating:

8.0

/

10

-

2

votes
Rate this game:

Game Overview
If You Like your driving games hardcore and uncompromising, your options are pretty limited these days. The hard simulation end of the spectrum, once a thriving and happy place, now consists of the Grand Prix series and not much else. If, however, you find the idea of driving an identikit Formula 1 car against the likes of Michael yawn Schumacher about as appealing as watching Vanessa Feltz discuss the merits of botox on Cosmetic Surgery Live, you'll be happy to know that upcoming driving sim GTR wants a piece of the action.
Based around the FIA GT series, the game sports the sort of cars you'd only normally see gracing the drives of footballers and rock stars (Ferraris, Porsches, Lamborghinis, etc). With each car tuned to within an inch of meltdown, this competition boasts none of the mind-numbing predictability of Formula 1, the high performance monsters jostling for position and executing sneaky overtaking manoeuvres at every turn. After racking up some mileage with the preview code I can also say that this promises to be one of the most realistic driving experiences on the PC - so real, in fact, that when our production editor Clare took it for a testdrive, she had to stop after ten minutes owing to motion sickness.
A Labour Of Love
GTR is being developed by SimBin, a Swedish outfit that's producing the entire game out of its own pocket. You might not have heard of the team before, but it's got connections in all the right places. The president is a professional race driver and the developers have used actual FIA GT drivers to validate the car handling.
Attention to detail is the byword - the game has over 70 accurately modelled cars, ten highly detailed official tracks and three modes of play that cater for both hardcore and casual drivers. Fancy the instant adrenalin of an insanely quick but easy-to-drive car? Stick it on Arcade. Want a more realistic experience but aren't quite ready to dip your toes into full sim mode? Try the Semi-Pro setting. And of course if you're truly hardcore, there's the full Simulation mode. This boasts a super-realistic driving model, an accurate recreation of the championship and of course the ability to tweak your car to your heart's content. This isn't out of bounds for novice drivers either, with a selection of driving aids, pre-defined setups, walkthroughs from the experts and advice on how to take each comer.
Of course, the true test of any racing game is the driving model, and from what I've seen SimBin's time under the bonnet has paid off. The physics-laden model provides one of the most realistic drives I've ever had, and each course is so accurately modelled you can actually feel the individual imperfections and debris under your wheels. Weather settings affect vehicle handling as well, and you can either select from a list of weather options or choose to expenence things exactly as the series drivers did.
Up Close And Dirty
With up to 56 cars on track at any one time, you'll have to fight for your position on the road, and even at this early stage the Al shows plenty of spirit. Opponents drive with all the aggression of human competitors - undertaking, overtaking and generally pulling off every move in the book to get around you. SimBin has also promised an online mode to test your skills against other drivers from around the world, as well as committing to regular online updates for the game.
All of which rounds off a curiously satisfying package. It's not often that a game comes out of nowhere to challenge the established veterans of a genre (Far Cry and Operation Flashpoint spring to mind), but GTR looks set do just that. With its combination of realism and fun and its exhilarating driving model, this Swedish beauty has all the credentials it needs. Check back next month for our in-depth review and definitive verdict.
Engine Noises In Gtr Are Music To The Ears
Given the choice of listening to anything in the world, I would personally decline the offer of Beethoven's most stirring symphony, shun the delights of Vivaldi's beautiful compositions, and instead strap myself into the driving seat of a souped-up uber-vehicle. Maybe that's just me, but the importance of audio has for too long been overlooked in the world of driving games. Of course, you've always had engine noises, but they've never truly captured the unbridled cacophony that assaults you when sitting in a racecar. SimBin, however, has gone all-out to make GTR sound just like the real thing.
Leaving no gear unturned, the team has faithfully sampled the engine notes and noises of every vehicle in the game, ensuring that each one sounds identical to its real-life counterpart. You'll also be happy to know that there's not just one level of 'road noise'. Up to 16 sound files can be played at any one time, so you can expect to hear the low burble of the exhaust, the whine of the straight-cut gearbox at high speeds, debris from the road bouncing off the car and a lot more. In short, GTR is a feast for the ears of any true car fanatic.
Download Links
System Requirements
Processor: PC compatible,
OS:

Windows 9x, Windows 2000

Windows XP, Vista, Win 7, Win 8, Win 10.
Game Features:

Single game mode
GTR: FIA GT Racing Game Screenshots