Hitman: Blood Money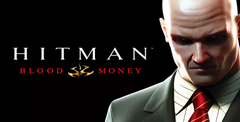 Developer: Eidos Interactive Limited
Genre:

Arcade/Action

Originally on: Windows (2006)
Works on: PC, Windows
Editor Rating:

Rate this game:

Game Overview
Where Is Agent 47? Well he certainly isn't in New Orleans. Oh no, no. At least, he was up until recent events - but then the action switched over to another place in Mississippi where they celebrate Mardi Gras in a very similar way. Never mind though, since everyone's favourite bald, serial-killing clone is now surrounded by more potential victims than ever. The hundreds of characters that can be cast on-screen means that Hitman will finally get realistic nightclubs, rather than the 15 people shuffling in a dark room of games past. So little time, so many bodies to stuff in closets and clothes to dress up in...
Not New Orleans
Again, this isn't the city of Dubya's worst nightmares, this is simply somewhere that looks a bit like it. In the Deep South. It's the home of one Margeaux Le Blanc, the heiress of a vast fortune whose wedding day Agent 47 just happens to be attending. Who has to die? How will they snuff it? Who knows, but remember that there are plenty of alligators out and about if you know where to look.
Cold Hard Cash
Now, standing here with a sniper rifle isn't exactly subtle, it's more for the need of a pretty screenshot. In the game proper, you're rewarded for your lack of discovery - reward money being governed by just how much you're noticed. This is a revamp that the Hitman series has been crying out for, actively encouraging stealth and tidy storage of bodies with in-game mechanics rather than simple prestige. Since 47 doesn't seem to need food or shelter, the cash gets spent on weapon upgrades and bribes.
Allthe Lonely People
Innocent, shuffling pedestrians always come off badly in gaming these days - and considerable time in the development of Blood Money has gone towards creating crowds of 'em, each one apparently a potential victim. Quite how this will work in the game mechanics proper is currently unknown, but expect greater freedom, bigger levels and more plebs than ever before.
He Talks Too
Now 47 has always been the quiet, brooding type - it goes with the turf. But in keeping with the heightened interaction and characterisation of Blood Money, you'll be a lot more vocal than before - chatting with bartenders and hotel staff. Meanwhile, the next day's newspapers will also report on your forays into assassination, perhaps mentioning how said bartenders and hotel staff were later found dead in a bin.
Business As Usual
Graphics may be glitzy, but the same old Hitman interface remains. Yes - 47 is now better at hanging off stuff, jumping, climbing and pirouetting from balcony to balcony - but the rudiments of his control system remain pretty much the same. A shame, perhaps, because the somewhat clunky interface has always defined the firm line between the Hitmans and the Splinter Cells of this world.
Download Links
System Requirements
Processor: PC compatible,
OS:

Windows 9x, Windows 2000

Windows XP, Vista, Win 7, Win 8, Win 10.
Game Features:

Single game mode
Hitman: Blood Money Screenshots