JEOPARDY!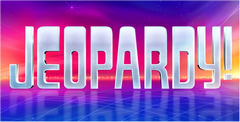 Developer: Sony Pictures
Genre:

Logic/Puzzle

Originally on: Windows (1998)
Works on: PC, Windows
Editor Rating:

User Rating:

8.3

/

10

-

6

votes
Rate this game:

Game Overview
How many video games based on Jeopardy do you think have been released over the years? I wonder if there is anyone out there who has a complete Jeopardy video game collection? As weird as that sounds it is something I would actually like to see. Anyway, today the game we are looking at is from 1998 and was put out by Hasbro Interactive.
And The Question Is….
You do not have to be a brain surgeon to figure out that this game is a virtual representation of the hit TV show Jeopardy. It follows it pretty well and tries to make you feel like you are actually on the show which is pretty cool. There are over 3500 questions in the game so the chances of you getting repeats is rather slim, unless you put hundreds of hours into the game of course. It features all the elements from the TV show which I think is pretty cool. What I have always liked about Jeopardy is that it is the kind of game that anyone can get into and this video game version is the same way.
What Feels Like A TV Show?
As I said before, Jeopardy from 1998 is trying to be as close to the TV show as possible and the main way it does this is by putting the camera behind the desk, almost like you have a first-person view of what is going on. You have the Jeopardy board which is nice and clear and the game even features Alex Trebek which is cool and the wrestling fan of me whenever I see him always thinks of WrestleMania VII! Anyway, I do feel that they did a great job of capturing the look and feel of the show very well.
They managed to not just get Alex Trebek's likeness here, he also provides a great deal of voice work too. Now granted, this does repeat so it can get annoying, but I feel it adds to the "authenticity" of it all.
What Is New For $300 Alex?
The gameplay is just like you would expect and want from a game that is based on Jeopardy so there is not really much they can do with the formula. You can play against the AI and different difficulty settings will dictate how much of a challenge you get. I played a SNES Jeopardy game many years earlier and the damn AI hardly ever got a question wrong! You can also play with two human opponents which is a great deal of fun, way more fun than playing against the AI.
The game can be played in a classic mode which is like you were on the TV show, you there is a speed version which makes things go at a much quicker pace. I am not sure what the point of this is. If you ask me if you are playing this, you should want to have the full Jeopardy experience!
I know that many people may not think much of a game like Jeopardy. However, this game sets out to be a faithful representation of the TV show and I feel that it succeeds. I have played a few newer games that have a bit more "flair" to them. That is not meant as a knock on this one though as it captures the feel of the show very well. If you like the show you will have fun with this. If you have never seen the show, but like quiz games, give this one a try and I am sure you will have fun.
Pros:
I like the first-person point of view
Alex Trebek is the man!
It captures the style, feel and look of the show very well
Playing with friends is a lot of fun
It has tons of questions
Cons:
The newer Jeopardy games are a bit fancier
As awesome as Alex Trebek is, he does repeat a lot in this game
Download Links
System Requirements
Processor: PC compatible,

P-III 500MHz 128MB
OS:

Windows 9x, Windows 2000

Windows XP, Vista, Win 7, Win 8, Win 10.
Game Features:

Single game mode