Judge Dredd: Dredd vs. Death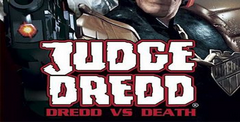 Developer: Rebellion
Genre:

Arcade/Action

Originally on: Windows (2003)
Works on: PC, Windows
Editor Rating:

Rate this game:

Game Overview
It's Been a while since we last saw Dredd Us Death. At the time, it wasn't exactly a game as such, more a few wonderfully detailed levels littered almost at random with static people. Things have changed. Now nearing completion, the transformation is quite staggering, with Mega City One having been brought to life like never before. Holographic advertisements for Grot Pots spin in the streets outside the huge Justice Dept building, while deep in the bowels of the city, illicit raves throb and pulse to intense lightshows.
But it's the citizens that make the city, and while Rebellion would be hard-pressed to include all MC1 's 400 million inhabitants, they seem to have had a damn good try at squeezing them into the game's 12 massive chapters. Potential perps and budding crazies are literally everywhere, most of them keen to avoid your gaze let alone your Lawgiver. Discover a crime in progress, however and the law-abiding among them will scarper, leaving you to deal with the scum of the streets. Lone criminals - those guilty of illegal dancing or daubing walls with graffiti - will probably come quietly. But gangs of crims are sure to put up a fight, forcing you to either cap their leader and make some arrests, or slaughter them all mercilessly and risk the attention of the SJS, the Judiciary's internal affairs dept.
Justice For All
But the real criminals behind the game are the four immortal Dark Judges and their hordes of Cultists. Despite being so close to release however. Rebellion is keeping Death and his three drinking companions under wraps. For now (I'm promised a squint at a future meeting - keep an eye out for a full hands-on preview next month). What the boys were willing to talk about at long last was the game's many multiplayer modes, one of which is a full co-operative mode for the main 12-chapter campaign. Deathmatch modes will be fitted as standard of course, but we can also expect teamplay variations like Block War (a capture-and-hold style mode). Informant - where the Judges must escort an unarmed squealer to safety - and the intriguingly-titled Umpty Raid, which sounds like a kind of Mega City footy game.
In terms of the visual style, the mix of weapons and sheer faithfulness to the 25-year history of the Dredd universe, the game seems to be heading in the right direction. Whether it will attract the nonbelievers remains to be seen, but 2000AD fans appear to finally be getting an interactive story worthy of the name.
Download Links
System Requirements
Processor: PC compatible,
OS:

Windows 9x, Windows 2000

Windows XP, Vista, Win 7, Win 8, Win 10.
Game Features:

Single game mode
Judge Dredd: Dredd vs. Death Screenshots