Klee Prank Adventure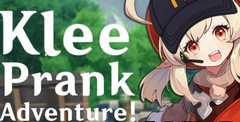 Developer: PinkMochiDango
Genre:

Arcade/Action

Originally on: Windows (2022)
Works on: PC, Windows
Rate this game:

Game Overview
Klee may be a knight, but he's still a child, and it's typical for children to make mistakes and get into trouble. That's exactly what happened in the visual novel with RPG elements - Klee Prank Adventure. Prank Jeanne, but before you do, earn money in the strangest way of all.
Klee vs All
Jeanne has once again punished Klee. But this time, the knight-errant is too offended by the injustice of Master Ordo Favonius and isn't going to just let it go. Clee is about to pull the biggest prank Mondstat has ever seen. But big pranks require a lot of money, and poor Cle doesn't know where to get it from. An unknown man named Dion comes to the rescue. The man gives the girl a camera and gives her the task of photographing the Mondstatt girls. Clee is willing to do such a task for the sake of a prank on Jeanne.
Genshin Impact
Genshin Impact was a breakthrough in mobile and PC gaming. Characters from this MMORPG have become popular, and more and more players with each update. It is this popularity that has made Genshin Impact and its characters a target for erotic videos and games featuring local girls. In this game, you will have to play as the child, Cle. Cle doesn't know what he's doing, taking pictures of Mondstatt girls for money and they're not always in their clothes.
It's not just Mondstatt that's in the crosshairs
The player has to perform tasks and follow the movements of the main girls of Mondstatt and not only. The target of Klee's lens becomes:
Lisa
Jeanne
Fischl
Mona
Lumin
Barbara
Amber
Ke-qing
Xiang-Ling
Signora
Genshin Impact's famous god's eye carriers and playable characters appear in a completely different light. Use Klee's curiosity and naivety to capture the most savory situations with the girls.
8
All character models are fully consistent with those in the game. The plot develops separately from the events of the game and the characters are not always identical to what we can observe in the game. However, Klee Prank Adventure fully accomplishes its mission and provides players with erotic content with their favorite heroines.
System Requirements
Processor: PC compatible,
OS:

Windows 9x, Windows 2000

Windows XP, Vista, Win 7, Win 8, Win 10.
Game Features:

Single game mode

Multiplayer (Hotseat, LAN, Internet)
Klee Prank Adventure Screenshots