Pool of Radiance: Ruins of Myth Drannor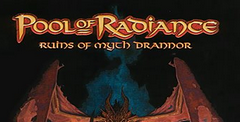 Developer: Stormfront Studios
Genre:

Adventure

Originally on: Windows (2001)
Works on: PC, Windows
Editor Rating:

User Rating:

7.0

/

10

-

2

votes
Rate this game:

Game Overview
When it comes to Dungeons and Dragons, Pool of Radiance Ruins of Myth Drannor is probably one of the most infamous video games ever made! This was released in 2002 and it has a very strange release history. You see the game was "rushed" however; it was also delayed by over a year at the same time! The result was a game that is not sure what it really wants to be. While I would not say it is as bad as some people claim. I must admit that the game is worth playing more as a curiosity rather than because you want to have fun.
What Kind Of Game Is This?
The biggest issue that most people have with Pool of Radiance Ruins of Myth Drannor is the overall gameplay. You see the game is trying its best to walk the line of being a Dungeons and Dragons RPG, but at the same time offer the same kind of quick-paced hack and slash gameplay as Diablo. The thing is, it does neither of these things too well. I would say that after you have spent the first few hours sneaking around, slashing away at an enemy that you have seen all the game has to offer.
There is no deep class system like you would expect from a Dungeons and Dragons license and the whole game feels like it has been streamlined to try and attract a more casual audience. This is fine, but they needed to have made the game a more fun experience. The story is about some team of villains trying to take all this magic, destroy an elf city or something like that, even the story is boring!
At Least It Looks Good
I think that the visuals are fairly decent. I am talking specifically about the backgrounds and areas you will be traversing in the game. They have used prerendered backgrounds and they look fantastic. For a game that was released in 2002, I feel that the backgrounds hold up very well. The characters in Pool of Radiance Ruins of Myth Drannor are not quite as highly detailed, but to be fair I think this may be because of how high-quality the backgrounds are you notice them more.
Prepare For War
As far as dungeon crawlers go, I would not say that Pool of Radiance Ruins of Myth Drannor is the worst one I have ever played. I like the way the UI is so easy and you very rarely have to go into the menu screen to do stuff with your characters which were something I liked. The fighting is turn based and it works fairly well, but the game overall is very mind-numbing. I am sure you could probably get into a Zen-like state and get into leveling up your characters so you can use their new skills. Sadly, most folks would have turned the game off long before that.
Also, when this game was released it was a buggy mess. There was talk that it would even uninstall itself or cause harm to people's machines! These issues were fixed, but it shows that right from the start this was a game that was always going to have a hard time.
I know that this review has been mostly negative and I feel that is fair. However, I will say that the game is not as terrible as people make out. The main problem that I have with Pool of Radiance Ruins of Myth Drannor is that it clearly wants to be an accessible Dungeons and Dragons style game with a bit of Diablo on top. The thing is, they did not make a very interesting or exciting game. Had the gameplay been more fun then I am sure people would be more into the streamlined gameplay that is on offer here. I do feel that the game is worth checking out just to see what the fuss is about and also to see if you feel it is as bad as people say!
Pros:
I liked the different character designs
Characters have their own skills
The background graphics look fantastic
I liked how you do not have to spend ages in menus
The game is easy to figure out
Cons:
The whole game is just not very fun
It had a truly horrific launch!
Download Links
System Requirements
Processor: PC compatible,

P-100
OS:

Windows 9x, Windows 2000

Windows XP, Vista, Win 7, Win 8, Win 10.
Game Features:

Single game mode
Pool of Radiance: Ruins of Myth Drannor Screenshots