Road Rash 3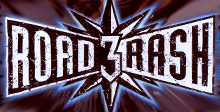 Developer: Electronic Arts
Genre:

Racing

Originally on: Sega Genesis (1995)
Works on: PC, Windows
Editor Rating:

User Rating:

8.7

/

10

-

3

votes
Rate this game:

Game Overview
Time to get nasty with a sequel to one of the coolest thrasher games ever to come onto the Genesis. Road Rash for the 3DO has gotten a lot of attention in recent months, still in the air. Electronic Arts could not have decided to bring Road Rash 3 out for the Genesis at a more opportune time. This is the nastiest and baddest Road Rash ever.
There are no rules, and the all-out motorcycle combat now takes place in seven countries, including the United Kingdom, Australia, Italy, Brazil, Kenya, Germany and Japan.
You have five new weapons that you can beg, borrow or steal to try to make your opponents kiss the pavement, including the all-new cattle prod. You can also use mace, a crow bar, an oil can and nunchukas, and the club and chain from Road Rash 2 are back.
If you don't win enough to become the big dog on the Road Rash block, you will still be able to improve the power and the ride of your bike with upgrade kits. Upgrade kits will keep you in the race when you can't afford to buy a new bike.
You can buy upgrades, like tires, suspension, performance and protection kits. The kits will increase your engine's performance and give you quicker acceleration to keep you in the running.
There's also an all-new Snitch Mode that allows you to rat on another biker and get off light with the cops. When you do this, you have to have eyes in the back of your head because thrashers are out for your blood.
Watch out for a new batch of obstacles and road hazards, including new pedestrian traps and a new group of wildlife to encounter.
When you get pulled over by the cops and try to run and hide, the cops are smarter this time around. They send a member of the K-9 unit to sniff you out and haul you in for some real seat-of-the-pants, in-your-face justice. Then you have to deal with the authorities after you One of the coolest aspects of the new game is the music and a new sound FX chip that tosses out some big-time sound effects and stereo quality sound. The musical segments really add to the enjoyment of the game.
Road Rash 3 has gone global, and you're invited to tour the world and race on seven international road tracks.
You brave the slick, wintery German roads, challenge pedestrians on the overcrowded streets of Japan and dodge wild animals on the African plains.
There are five tracks available per level. Each track has a long description that outlines the distance, and you get a glimpse of the terrain. Race the tracks in the order that they come up or you can choose the order you want to take on the circuit.
As you progress in the game, you must upgrade your equipment to remain competitive. The Perro 125 is the bike you'll start out with and it won't stand a chance against the high-horsepowered cycles you'll face in the later levels. In the Bike Shop Menu, you can shop for a new bike in one of the three classes or as mentioned earlier, you can upgrade the bike you're currently using.
Rat Bikes are low-end racing machines, and you'll be lucky to qualify for a joy ride if you continue on these sorry cycles.
Sport Bikes are quicker, and as you move into this class, you may need to adjust your riding technique, braking sooner and learning to keep your eyes peeled for oncoming cars, cows or other obstacles that can cause you to become road pizza.
The Super Bikes are the speeding bullets of Road Rash 3 and all you have to do is learn how to harness their power without crashing and burning.
One sharp turn can spell the difference between winning, wrecking and getting scooped up off the pavement with a shovel. This is a fast-action game from start to finish, and there's a number of new features that will keep gamers happy.
This game will kick gamers into high gear and into a new level of excitement.
Download Links
System Requirements
Processor: PC compatible,

P-200
OS:

Windows 9x, Windows 2000

Windows XP, Vista, Win 7, Win 8, Win 10.
Game Features:

Single game mode

Multiplayer (Hotseat)