Star Wars: Knights of the Old Republic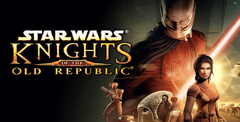 Developer: BioWare Corporation
Genre:

Adventure

Originally on: Windows (2003)
Works on: PC, Windows
Editor Rating:

User Rating:

10.0

/

10

-

1

vote
Rate this game:

Game Overview
"This Is going to be our best game ever, states Ray Muzyka, joint CEO of Bioware Corp, during a demo of his new RPG, Star Wars: Knights Of The Old Republic. It's a big statement. Not only because Bioware is the world's premier producer of PC RPGs (Baldur's Gate ring any bells?), but because Ray is such a modest, matter-of-fact chap that you know if he says it, well, he darn well means it.
Knights Of The Old Republic is the first ever Star Wars RPG. It's set 4,000 years before the films, in an age when thousands of Jedi and Sith are clashing in a giant galactic war. It's up to you to determine the outcome of the battle, for you are destined to become a powerful Jedi and have yet to choose which side to grant your allegiance...
KotOR is also one of the best-looking 3D RPGs ever created - a stunningly cinematic achievement that takes full advantage of all the latest advances in graphics tech. And while we're reeling off superlatives, it's also far and away the most accessible RPG from Bioware, now practically synonymous with beardy stat-bashing. We understand that this is a console game as well as a PC game, explains Ray. We wanted to find a balance between the two.
As such you'll find an easy and versatile character creation system, and a y combat system that can be played out in anything from full action mode, with cinematic saber swinging to match Jedi Knight II, through to fully turn-based.
Your adventure will take you across ten planets including Tatooine and Kashyyyk, in your trusty old space bucket, the Ebon Hawk. But where Baldur's Gate II offered up to 200 hours of goblin-bashing fun, KotOR is a far more manageable 40 to 60.
A variety of mini-games have also been introduced, including turretbattles, pod-racing and a card game called Pazak, which is more than a little reminiscent of Final Fantasy VIII.
However, this is no Deus Ex-like action hybrid, and at heart, KotOR is still a pure RPG. There's party-based questing, complex stats, countless items to collect, force powers to learn, experience to earn. It's deep, sturdy, and if you want it to be, as hardcore as any Bioware role-player. However, it's also awesomely cinematic, instantly playable and sure to please every Star Wars fan out there, goblin-lover or not.
Download Links
System Requirements
Processor: PC compatible,
OS:

Windows 9x, Windows 2000

Windows XP, Vista, Win 7, Win 8, Win 10.
Game Features:

Single game mode
Star Wars: Knights of the Old Republic Screenshots