The Simpsons Game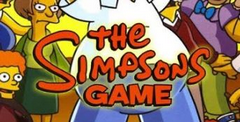 Developer: Rebellion
Genre:

Arcade/Action

Originally on: Windows (2007)
Works on: PC, Windows
Rate this game:

Game Overview
The strange yellow family moves from the world of cartoon animation to the world of video games in the action-platformer The Simpsons Game. What adventures await the Simpsons this time and from what sensitive situations the player will have to rescue them - find out for yourself.
Grand Theft Scratchy
The start of sales of Grand Theft Scratchy was a milestone for all teenagers in Springfield. Like the real prototype, Grand Theft Auto, the new game about the cartoon cat was particularly violent and extremely violent. Bart couldn't miss such a game with his favorite character, but Marge stops him on his way out of the store. Taking the game from her son, his mother leaves, and Bart ponders the injustice of life in solitude.
God's Guide
The second significant event is when the manual from The Simpsons game falls on Bart's head. He learns from the manual that his entire family has superpowers. The manual didn't lie and all the family members discovered they had powers:
Homer Simpson - can change shape from ingested food. Homer can become a big fat, rubber or flying ball, which is a good way to pass levels.
Marge Simpson can control a crowd or attack enemies with her voice. The ability only works if you have a loudspeaker.
Lisa Simpson can stun enemies by playing the saxophone. If there is a statue of Buddha in the location, she can sit next to it and use her huge hand to move objects or attack enemies.
Bart Simpson can transform into Bartman. No, not an orphan in a bat suit, but an ordinary boy with a cape. Can soar and use a hook.
Maggie Simpson - can climb into ventilation shafts and shoot the right mechanisms with a pacifier.
Where to Run, Matt Groening
You can only play two characters in each level. The story won't let you choose them yourself, but you'll get to play and see how the different combinations work anyway. The crazy universe allows you to fight even with your own creators, so don't wait for the monotony here.
9
Save the Simpsons world from alien invasion and then from complete destruction by the creators themselves. The irony, humor, and allusion to many aspects of American society make The Simpsons Game the same beloved series, even if you can play it.
System Requirements
Processor: PC compatible,
OS:

Windows 9x, Windows 2000

Windows XP, Vista, Win 7, Win 8, Win 10.
Game Features:

Single game mode

Multiplayer (Hotseat, LAN, Internet)
The Simpsons Game Screenshots