The Sims 3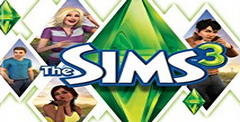 Developer: IronMonkey Studios Pty Ltd
Genre:

Strategy/Wargame

Originally on: Windows (2009)
Works on: PC, Windows
Editor Rating:

User Rating:

10.0

/

10

-

1

vote
Rate this game:

Game Overview
We've Got Some expansion pack ideas for you. "Ooooh!" says MJ Chun, associate producer for The Sims 3, clapping her hands with what I take to be glee, and we're not even talking Pets, H&M, IKEA or any such nonsense. The Lazy Bum and Religious Zealot expansion packs are from our No. 1 Ideas Factory and after pitching them to Chun, one thing becomes clear - EA Redwood Shores have got their sense of humour back. "Nice!" she says.
During our chat, Chun takes me through a few of the new features of The Sims 3 and the first thing I notice is how creating a sim is much more sophisticated than before, with body type, facial features and hair styles all helping to make the sim of your choice. Then you get to choose five traits from around 40 or so, like Workaholic, Neurotic, Evil, Kleptomaniac, Daredevil, Insane, Loves Partying, I and Never Nude (the sim will even shower with their clothes on), each of which open up related behaviours. Lifetime wishes are stamped on the personality traits, and helping your virtual person complete these unlocks rewards along the way - like complimentary entertainment, a teleportation devic, a mid-life crisis (that's a reward?), and (wait for it) a steel bladder.
"That's how most people enter the game and fall in love with their sims!" explains Chun, whose enthusiasm for the game is infectious. "It means that you control, you put in as much effort to moulding these characters as you'd like and it's pretty eerie.
"We had one of the artists who created a couple of politicians, so we had George W Bush, Barack Obama, Sarah Palin and John McCain all living in the same house, fighting and running round the world, and they were all arguing, it was fantastic!"
Chun is currently playing with her I sim Daryl who is in the criminal career track, loves the outdoors, is a daredevil, loves being friendly, and is athletic (you have to keep fit to run from cops). His short-term wishes are: to get to know Zelda (no, not the Nintendo fella) better, to work out and be more buff, and "he also wants to 'woo-hoo' with Zelda," says Chun, which we smirk at. A bit.
"This is also slightly salacious," she hints, "because his best friend Phillip, is a ghost - he had an unfortunate accident with a computer and that electrocuted him. He died and he was brought back to life by Daryl, but Zelda is his girlfriend and now they've got a little love triangle going on! So is Zelda going to go for Phillip - a hopeless romantic, artistic and charismatic - a guy with the heart, or is she going to with the guy with the heartbeat?" We often have similar dilemmas on site, so feel pretty qualified to handle any such life changing decisions we're faced with.
One of the standout aspects about The Sims3 is that you can play it exactly how you like, if you want to spend hours, creating and customising your sim and stuff in your world with intricate designs or patterns, you can. Or if you'd rather just get stuck into gameplay, there are only minimal requirements to begin playing. Plus the open world keeps the whole town loaded in at the same time, so your character can run around the whole neighbourhood.
"We paid attention to different types of playing," she says. "I love careers because, you can actually affect how you work in your job, so if I send Daryl to work, he can work hard, he can spend time getting to know his co-workers, suck up to the boss - these are all options I have. "If I make him work too hard he'll be super-stressed and in a grouchy mood, so all of his interactions with his friends, or the things that he'll want to do, will be impacted."
Back to those expansions; can we expect more for The Sims 3? Because the games have always reviewed well in PC, its just the expansions we've had problems with, and we don't want things to go down that route again.
"It's kind of interesting as we are so 'here' right now and expansion packs are usually what, as sims players, we would like to do with the game," says Chun. "So, I would love to have Pets in Sims 3 or Sims In Space - that's what expansion packs are. For us, what it makes sense to add to the game. "Often we get gameplay features that are meaningful to players that we didn't think about until expansion pack four where we thought 'that would be really cool' and that's where we'd have to go."
While there's no guaranteeing we won't be tearing our hair out when The Sims 3: Beverley Hills Apartment Pooch Party Fashion Paradise Stories Deluxe is announced, fans will adore The Sims3 and improvements including not having to find the nearest bog all the time, might just tempt lapsed gamers back. And, as Chun further coaxes: "You can totally kill your sims, starvation and drowning is still a part of the sims experience - if you want to kill your sim, you can kill your sim." That will do it for us, that and the Grim Reaper sim.
Download Links
System Requirements
Processor: PC compatible,
OS:

Windows 9x, Windows 2000

Windows XP, Vista, Win 7, Win 8, Win 10.
Game Features:

Single game mode