Wargasm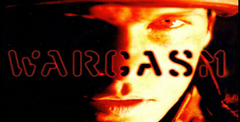 Developer: Digital Image Design Ltd.
Genre:

Strategy/Wargame

Originally on: Windows (1999)
Works on: PC, Windows
Editor Rating:

User Rating:

8.0

/

10

-

1

vote
Rate this game:

Game Overview
There's only one real problem, says DID's commander-in-chief, Martin Kenwright. The military don't know we've changed the name yet. We're not quite sure how they'll take it when they find out. In a previous life, EBT Tank (Electronic Battlefield Of Tomorrow, in case you were wondering) was such an impressive-looking tank simulation that DID were almost persuaded to let the British Army use it as a training device for real-life tank commanders. Changing the name from something sensibly militaristic to... well, Wargasm isn't likely to be a popular move in Whitehall. Not that Martin Kenwright seems to care all that much: We showed it to the American distributors and they all said, You can't call it that!' Just watch us, he laughs.
Zone first saw EBT Tank last December when it was at a very early stage of development. When we took up an invitation to see it in its current form, even we weren't ready for quite how much it has - and hasn't -changed. The highly driveable tank engine has remained largely untouched, but instead of being wrapped in a traditionally-DID realistic sim program, its clothing is of a much greater action variety.
Gone also is the whole train set' structure that was Kenwright's vision at the time. EBT Tank was to be the base product, with extra vehicles, troops and scenery developed and distributed on an individual basis over the Internet. You bought the parts you wanted and built up the game as you went. Instead, Wargasm features tanks, helicopters, infantry units and troop carriers in the one game, and seems much more packed as a result. We just didn't have the budget to support a project like that, confesses Kenwright sadly.
The storyline is one of machines versus man. Fed up with decades of misuse, the Internet has evolved and has started taking over the electronic world, crippling communications, disrupting power lines and threatening us with killer get-rich-quick schemes and lethal free pornography sites. You are leading the fightback across the seven virtual continents on the World Wide War Web, each containing a lengthy campaign.
Obviously, the real draw of Wargasm is its stunning graphical quality. DID are renowned for games that push the visual envelope, and this is no exception. Weather effects are particularly smart - raindrops streaking down your window panes, clouds that roll across the landscape, lightning streaking across the sky -as are explosions and other weapon effects. Smoke billows and plumes, fire crackles, infantry units splatter and their blood smears across your windscreen if you drive over them, etc. Good, clean fun.
It isn't just the graphics though. The thing about DID is that even though they are simply trying to make a plain action game, their flight sim expertise tends to creep in. Thus the enemy Al is of a sufficient level to co-ordinate detailed attacks on your units; troops are given noise levels and aural statistics (meaning infantry units can sneak up behind tanks without their approach being heard).
There's still a long way to go, of course, and what DID will do to Wargasm between now and its release date is anyone's guess. And with Rage's Hostile Waters arriving at much the same time, it should be an interesting fight for supremacy this Christmas.
Download Links
System Requirements
Processor: PC compatible,
OS:

Windows 9x, Windows 2000

Windows XP, Vista, Win 7, Win 8, Win 10.
Game Features:

Single game mode