Worms 2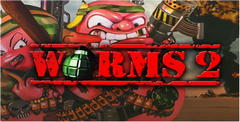 Developer: Team17
Genre:

Arcade/Action

Originally on: Windows (1997)
Works on: PC, Windows
Editor Rating:

User Rating:

9.3

/

10

-

3

votes
Rate this game:

Game Overview
Read why players love Worms 2! * "Explosive fun, I find it hard to stop playing this game. Its filled with gigantic explosions and funny sound effects. It also has a great deal of strategy intermingled with its amusing effects." - Sean Magill * "I think this game is designed really well with the weapons and detail put into it. If I have enough money, I will definately buy the full version. The game is my favourite of all I've played, and I really really want it. The game contains good graphics and well-thought-out levels and I would give it a rating of 5 out of 5. It's the bomb!" - Brad Wright * "This is deffinatly one of the best games I have ever played ever. The graphics for this game are nicely illustrated and the gameplay is easy to get used to and simple to play. On a scale to 1-10 "Worms 2" deffinatly gets a 10. I reccomend this game to anyone and everyone." - Jonathan Creely * "The game has many features that make it fun, such as the broad range of weapons. I played the demo and discovered it is a very addicting game. Also, the evironments are well designed because of the color and the variation." - Freddy Castaneda * "Worms 2 is a good game for many reasons, first off the game holds its own when it comes to gameplay. An almost addictive platformer/strategy game mix, you can see that whoever designed this game put alot of thought into how the game would work." - Caleb Clouser
Sequel to one of the most addictive multiplayer games in the entire universe, Worms 2 has numerous new options which allow the player to tailor the game by selecting which weapons the teams start with and how much damage can be caused to each worm. In addition, players can also create their own arsenal through the use of a weapons editor, a feature that allows you to invent awesome new weapons by combining different weapon types. Along with the editor, the game includes over 60 new weapons, high-resolution, cartoon-style graphics, a whole range of new sound effects, speech and music tracks (including a programmable jukebox), and the ability to play with up to eight players over the Internet.
The original Worms was in many ways a triumph of gameplay over graphics and proved to be one of the most addictive games ever conceived when played against a chum.
Worms 2, the much-lauded sequel, offered slightly tidier graphics, 60 new weapons and even more fun-filled surprises that enhanced the still addictive gameplay, though it was essentially the same game with relatively few new tweaks. On budget, at least, this doesn't seem to matter as much as it did, and if you've yet to discover the charm of Worms, this is the version to buy.
"Every now and then a game comes along that is addictive, challenging, and entertaining all at the same time and yet can't really be explained as such to someone who hasn't played the game. Worms 2 is such a game." - GameSpot.
"The most brilliant and most entertaining game that I have ever played! This game keeps me glued to the PC for hours on end. It's brilliant fun for all who play the game. The graphics are brilliant and game itself has been planned with great brilliance. Thank you for bringing this game to the world!!!" - Karl Christian Aucamp, Worms 2 Player.
"This game was fun in many ways and in many was it was amasing, the fact that you can go on the internet is the best option and it makes this the best worms ever" - Tyler Bichel.
"Classic game. Very enjoyable especially with my friends. I think that novelty super weapons like holy hand grenade add alot to the game in terms of amusingness. Downloading from here caused me to buy worms world party, which has alot of extra maps and some extra features." - Barnaby Wharam.
Download Links
System Requirements
Processor: PC compatible,

Pentium 75 MHz or faster (Pentium 133 MHz or faster recommended), 16 MB RAM (32 MB RAM recommended), 51 MB free hard disk space

SVGA 1 MB VRAM (SVGA 4 MB VRAM recommended)

DirectX5
OS:

Windows 9x, Windows 2000

Windows XP, Vista, Win 7, Win 8, Win 10.
Game Features:

Single game mode

Multiplayer (Hotseat)