"The Dark Queen has captured two of your friends, Rash and Pimple. You play as a Battletoad called Zitz and it's up to you to help them."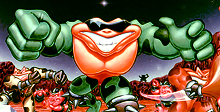 Battletoads
1.0
by Rare, Ltd.
Sponsored Links:
Battletoads screenshots:
The Dark Queen has kidnapped two of the Battletoads, Rash and Pimple. You take the role of Zitz, the third Battletoad, and it's up to you to save your friends from the Queen. In order to rescue your buddies you will have to travel to the Planet Armagedda, where you will have to fight through swamps, caverns, and the belly of the evil Wurm. In all of these areas, you will face snowmen, hog soldiers, robots, and variety of other enemies. Luckily, you have a large array of punches and kicks at your disposal to dispatch the enemies. Furthermore, some of the items that are lying around can be used to smack some sense into evil. Will Zitz be able to survive the hazards of Armagedda? The only way you'll find out is to play Battletoads.
The Battletoads game consists of three moves: a punch, a kick and a head-butt. Items include a rod that can be used to hit people and a robot head for throwing. Also, the whole game isn't just the standard "walk left and right and punch people" style. Most of the levels are like that, but 4 of them consist of "vehicles" (is a surfboard a vehicle?) that you ride around dodging obstacles or escaping enemies. 3 of the levels have you climb up or down a narrow shaft. There are also a couple one-of-a-kind stages.
Battletoads game is also knows as Battle Toads.
Battletoads features:
Features multiple levels
variety of environments like swamps and caverns
large number of enemies
special martial arts attacks
use random items as weapons
Battletoads video:
Subscribe

Gamefabrique game channel
on YouTube.
The Battletoads is really just the same thing over and over again, but its high level of difficulty is what keeps me playing it again and again. With 12 difficult stages, each one of them DIFFERENT from the last, I just love this game! 2 player co-op isn't all that great, but then again, I never have anyone to play it with, so it probably is good if you have a teammate of equal or close to the ability you have at the game.
The Battletoads has some excellent music. It consists of fast-paced rock style tunes. There are several songs, and each is just as catchy as the last.
Battletoads is a video game created by Tim and Chris Stamper and developed and published by Rare. The game is featuring three anthropomorphic toads named Rash, Zitz and Pimple, and was created to rival Teenage Mutant Ninja Turtles, a more popular beat 'em up game.

The Battletoads game follows the story of the three toads named before. After the evil Dark Queen was defeated by the Galactic Corporation, she and her troops retreat and hide out between stars. Meanwhile, Professor T. Bird and the three Battletoads escort Princess Angelica back to her planet where Terran Emperor awaits for his daughter's safe arrival.

The Battletoads game was fairly popular and was nominated for the 1991 Nintendo Power Awards in nine categories. The game won in Graphics and Sound, Theme and Fun, Best Play Control and Best Multi-Player or Simultaneous. The game was also awarded the title of the Overall Best Game for NES of 1991. The game had its flaws as well. It was considered very difficult, even for experienced players, and was considered also one of the most difficult games ever created. UGO ranked it as number 6 on its list with "sequels needed", and the game was followed up by several other releases later on.
If you like Battletoads, try other games: Battletoads and Double Dragon.
Battletoads system requirements:

P-200.
Systems:

Windows 9x, Windows 2000

Windows XP.
Game modes:

Single game mode

Multiplayer (HotSeat).
Battletoads news:
2005-07-24 Old good Battletoads game added.

Comments on Battletoads:



masum: this game is da bomb

Total comments on Battletoads: 1.
Show all comments on Battletoads.
Commenting is closed. Please use forum to share your opinion.
X
Next game:
Download Battletech