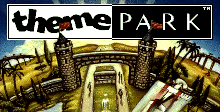 a game by Electronic Arts, Bullfrog Productions
I don't know about you, but I think the idea of designing your own amusement park is a great one. There's more to Theme Park than simply building rides and concession stands. You've got ticket sales and customers' moods to consider. How well you place buildings like bathrooms and shops will spell failure or success. There is a lot of strategy here, and a lot of the fun comes from experimenting with what works best.
There aren't that many sims like this around. (Are there any for the Genesis?) Theme Park is certainly worth playing.
Build a huge park where your customers can try out the newest attractions you place in it. Of course they also need something to eat, like burgers or ice cream. Scientists are inventing new attractions all the time, you can control how much cash they get for certain areas of their research.
Theme Park game is excellent, It's timeless, you can play this game forever and not get bored, as you can tell, I'm a huge fan of the game, the graphics and sound are bad, but gameplay is the most important factor in any game, maybe mores in this one because of the lack of great visuals, in the end, the gameplay is what matters most.
If you like Theme Park, try other games: Airport Tycoon 2, Coffee Tycoon, Deep Sea Tycoon, Deep Sea Tycoon 2, Fish Tycoon, Hard Truck Tycoon, Lemonade Tycoon 2, Oil Tycoon, Prison Tycoon, RollerCoaster Tycoon, Space Tycoon.
2005-07-10 Build your own Theme Park.

X
Next game:

Download Tradewinds 2