BioShock 2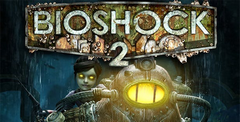 Developer: 2K Australia Pty
Genre:

Arcade/Action

Originally on: Windows (2010)
Works on: PC, Windows
Editor Rating:

User Rating:

8.7

/

10

-

3

votes
Rate this game:

Game Overview
I Had Zero anticipation for BioShock 2. I'd already been to Rapture. I'd taken the trip in the bathysphere, I'd seen the fish, I'd stabbed the same battered vein full of exotic stimulants repeatedly and I'd beaten a man to death with his own golf club. Job done: as far as failed underwater civilizations went, the box was ticked.
Inevitably though (not heeding my rants of "Why didn't they put it in space or something?") it turns out that BioShock 2 is pretty bloody wonderful. In fact it's a better game than the original. Much as the following reads like the exclamation mark strewn reverse of the annual FIFA review, it's no lie: the structure is better, the combat is better, the plasmids are better, the storytelling is better and the emotion is realer.
Then again, in my eyes BioShock wasn't exactly the perfect game: gunplay was shonky, and post-Ryan reveal it pretty much gave up. It just had those massive gameplay balls in narrative, script and art-style though didn't it? It would sometimes stand there pissing on our legs, while we, the gamers, could just gaze up at the aforementioned giant balls and convince ourselves that it was rainir BioShock 2 patches up those leaks, while simultaneously providing more than enough gobsmackery to let it perch proudly on its own two shiny brass legs and drill naysayers in the face.
Hippy Chick
Ten years have passed since a faux-Irishman did you-know-what to you-know-who, and in the power vacuum since Ryan's departure a new leader has emerged bearing a different selection of aspirational leaflets. The queen-bitch currently in vogue is Sophia Lamb - a psychotherapist turned commune dictator, armed with a mean pair of specs and a well-thumbed copy of The Dummy's Guide to Collectivism. You, meanwhile, play an inconveniently reactivated Big Daddy (one of the first) whose quest to be reunited with the Little Sister he was previously bound to gets him right up Lamb's rigid hippy nose.
As for your wanderings, well rather than take to the underwater skies in inter-level Bathyspheres, this time you're exploring the structures on the seabed - sometimes trotting around the sand itself, but more often striding through a sequence of hubs linked by an crumbling undersea train line.
Each hub has problems that need sorting, small children that need saving (or harvesting) and an indigenous population of former rocket scientists that want to rip you open and suck out your Adam through a straw: in that sense, at least, it's business as usual.
The change from playing as a plucky human to a lumbering Big Daddy isn't as huge a one, in terms of gameplay, as you may have feared - mainly because you don't lumber. You may move around a smidgen slower, but your new metal confines are mainly underlined through an (optional) visor on your HUD, thunderous fpotsteps and the fact that you have a drill instead of a right hand. Said drill acts as an excellent melee weapon to fall back on, or indeed specialise in, but requires fuel to run. At first you regard it as a dalliance, but when you're low on ammunition it quickly becomes a hugely satisfying ''have it you bastard!" bosskiller - especially once you unlock the ability to charge at unsuspecting Splicers through liberal use of the Shift key.
As a Big Daddy you also clearly have a subtly different relationship with the Little Sisters - the pre-pubescent purveyors of the upgrade body goo known as Adam. As in the original, to get at these young ladies (stocks of whom have been replenished by Lamb through kidnapping children from all around the world) you must first kill their metal-cased protectors. The Big Daddies are still something of a challenge to take down - and now come in a new variety - the colander-faced Rumblers - who specialises in lobbing miniturrets at you and following up withheat-seeking rockets. Once they've been dismantled, you have the choice to either harvest or adopt their Little Sister - of which you should always choose the latter, else you'll be missing out on both Adam and the most enjoyable parts of the game.
As you carry your charge around (unseen, up on your back) you'll occasionally hear her pipe up "Look Daddy! Adam!" as you pass dead bodies that have been strategically placed through each level. As you'll quickly learn, each one is essentially a siege mechanic in waiting: you just know that as soon as you set your little trooper down and wait for her to do her business, there'll be a horde of morally questionable obsessives with hooks for hands wanting to steal her. It's the Daily Mails worst nightmare come true. As such, in the calm before the storm, you set up defences.
Every body harvest generally takes place close to doorways through which newly-spawned Splicers will no doubt sprint - and as such you set to crisscrossing them with a grid of handy laser beam traps from the new Rivet gun; familiar electrified trap bolts, that now live in the Spear Gun (itself essentially Painkiller's Stakegun); or throw down the automated turrets that live in the wonderful remote hack tool. What could have been some bullshit NPC protection routine instead a becomes tower defence gameplay mating with the FPS in furious abandon: best laid plans gradually turn to fiery chaos, and you cant help but cackle as you rev your drill engine amidst the fray.
Here's Daddy!
The game's very best moments take place when all hell is breaking loose, only for a wandering Big Daddy to stroll into the scene - who can then be encouraged to join in the fun through liberal use of the Enrage plasmid.
In fact, in terms of combat, it's this collision of Rapture's organic wandering monster eco-system with the scripted spawns your gameplay sets off that you'll be boring your friends about for weeks. From time to time the action feels so dynamic, and so frenetic, that it's easy to convince yourself that you're part of a battle that you alone will experience.
After a successful collection you can either free the child and deposit her at one of the silver tubes that act as L'il Sister transport devices, or for an extra dose of the good stuff: kill her. Along with other moral choices you're presented with through the game, these decisions will then impinge on what happens in the final levels in rather neat granular ways. For the time being though, with the Adam you can buy and upgrade your plasmid powers, and indeed tinker with ambient boosts from a wide selection of gene tonics that allow you to specialise your powers in a far more direct fashion than before.
The big change is the fact that you now dual-wield plasmid power and firepower - so that old ball-ache of having to flip between hand-o'fire and hand cannon while being chased by an enraged Victorian Swimsuit is long gone.
What's more, by always having a plasmid power present on-screen the opportunities for their tactical use pretty much explodes in number - and you'll find yourself organically creating no end of fun personal tactics. My favourite? Why since you ask: it's placing a Cyclone Trap underneath a Splicer and watching them being hurled up into the air, impaling them with the Spear Gun, then watching them fly though the air and dangle from the top of a nearby wall from the stake that's been wedged through their cranium. Using a Rocket Spear on a Big Daddy frozen in an ice block will also provide a giggle or two.
Splicer Dicers
Unlike the cast of new, or differently buffed, items in the weapon slots (Drill, Rivet Gun, Speargun, Gatling Gun, hugely powerful shotgun, remote Hack device, and camcorderised research device) the plasmids are pretty familiar. Electro Bolts, Winter Blasts, Incinerate, Telekinesis and their cohorts all return - alongside more targeted Enrage systems and the ability to paint Splicers with a colour that makes them a high-value target for nearby security systems. Scout meanwhile, lets you check out areas up ahead with a psychic ghost of sorts - but doesn't involve flaying people alive so is therefore for wussies.
What with everything being more customisable round Rapture these days, when you advance each power up the three-step tech tree (tech shrub, really) they open up more combat options and, excitingly, start to mingle. Place one of my dearly beloved Cyclone traps, for example, and you can top up its capabilities with a chaser of fire, ice or insects to deal more damage to approaching badness.
Daddy Day Care
BioShock 2 isn't all Daddy-daughter day either, and the self-contained stories within each hub are universally excellent While there are far fewer areas to explore than the original game (seven in all, with two smaller areas at start and end) they're larger and more varied in theme, never dropping the fun baton or failing to fulfil their individual purpose in drip-feeding the plot to you. The standout area, almost matching the original's Fort Frolic, is Fontaine Futuristics - where the slug-sucking and Daddysplicing first began. Here a calm and collected recorded voice recording gives you solemn instructions that you should kill him once he's been rendered insane, while his contemporary insane self torments you from a flying screen somewhat reminiscent of Evil Edna the TV set in Willo The Wisp. Far from the factory-crawl you worry it might be, you soon become an advertising tool in a show meant to sell these wondrous new plasmids and... well I won't spoil it.
Elsewhere cinema auditoriums, art galleries, brothels, orphanages, pawn shops, amusement parks, churches and shopping arcades all prove excellent stomping grounds - complete with nutty characters you may or may not get to drill until dead: mad priests, shifty journalist shysters and matriarchal Tom and Jerry housekeeper-types. All impeccably voiced, most bonkers.
The smaller building blocks of storytelling meanwhile that made Rapture such an interesting place last time is still as powerful: the posters, graffiti, suggestive furniture and body placement remain just as joyfully chinscratching and mind-boggling.
A great example comes early in the game: an upturned pram at the foot of a huge staircase in a transport hub. It's a simple reference to the runaway pram scene in The Untouchables or, more aptly, the famous Communist propaganda film Battleship Potemkin. The thing is, in this version the pram contains a dead dog. This dead dog underlines the insanity of the people of Rapture, and the themes of parenthood and collectivism are writ large on the canvas. Gaming just grew up, got a bit more poncey.
The game's longest stride in narrative is a really clever sequence towards the end of the game that I simply can't tell you about, but will obliquely reference by saying that it's like the opening FMV to Syndicate Wars. You'll know it when you play it It is worth mentioning that the story is conventional - there's no showstopping twist Much as that may sound spoilerish, you'll enjoy the game more if you're not sitting there and building yourself up for a WTF that'll never come.
Daddy's Day
Perhaps aided by this, there are some who'll tell you that BioShock 2 is a more polished, yet inferior version of the original. And if your memory only goes back to the first few hours of the game and you're incapable of remembering the escort missions and post-twist mediocrity then who knows - you may well agree.
To my mind this is a better, tighter and more emotionally engaging game - but it can't top that first descent below the sea, the first face off against a Big Daddy or the way you gradually came to terms with the ways the Rapture ecosystem worked. In fact the best way to describe BioShock 2 is simply to call it whaf it is: a really good sequel. A sequel that's brave enough to take an already familiar setting and find a clever way of telling a story that nevertheless feels new, and doesn't listen to the cretins baying stuff like "Put it in Space! Put it in Space!".
Although putting the next one in space would be brill.
Download Links
System Requirements
Processor: PC compatible,
OS:

Windows 9x, Windows 2000

Windows XP, Vista, Win 7, Win 8, Win 10.
Game Features:

Single game mode