Cannon Fodder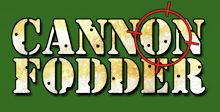 Developer: Sensible Software
Genre:

Arcade/Action

Originally on: Sega Genesis (1993)
Works on: PC, Windows
Editor Rating:

User Rating:

7.6

/

10

-

5

votes
Rate this game:

Game Overview
Cannon Fodder is a 2/3 top down shooter where you control a squadron of Grunts to shoot & blast your way through each mission, split into several phases. each with different objectives and parameters. Cannon Fodder is a game that required good vision, quick reflexes and a quicker brain. With the enemy innumerable, the terrain hostile & the natives in the line of fire it made for a game that was testing to say the least.
Cannon Fodder is a superb game that was a little on the tough side but excellent to play.
Cannon Fodder is hard to explain...you have to experience it, but I'll try anyway. You are in command of a squadron of 1 up to 8 men. Your objective is to guide these men through a variety of missions where reaction time and tactic is crucial if you want to accomblish them. For example a typical objective would be: "Kill all enemies, Destroy all enemy structures". As you progress in game the objectives increase and get more complex. You often get to man various vehicles such as tanks, scooters etc. Cannon Fodder game is very extensive and there are tons of missions to complete. You often spend hours trying to complete a mission and loose countless of men doing so...let me tell you, Cannon Fodder isn't a game which can be completed over night. You sometimes have to think very creative in order to complete a mission, and in the last missions you are often faced with a countdown. Your missions extend in different envirorments such as, jungle, artic, urban, desert etc. The graphics are nice and clean, and you can clearly see it was originally developed for the amiga. The sound is average, but the sound when you kill a enemy gets very annoying after a while.
Cannon Fodder was a short run of war games developed by Sensible Software, a mix of both real-time strategy and action games. Only two games in the series were released, but spawned through most active systems at the time of the release. The series have a clear humourous line, and soldiers are seen as mere cannon fodder. The pre-mission screen shows a hill with a grave for each dead soldier, with recruits lining up in front of it. On top of the screen, a sports-like score appears. The tag line for the first game was "War has never been so much fun", and the second (with a more sci-fi background) "War has only been this fun once before".
In both games the player is in charge of an commando team from one to eights elements that can be broken up to three groups. All units have a machine gun with unlimited ammo, but grenades and rockets can be found on the location. The players' machine guns do not harm its units, but grenades and rockets do, and are the only capable of destroying a building (they may be shot while in the crate). Player units can also die if hit by debris caused by building explosions, hit man-traps, quicksand, and obviously, enemy fire. Units usually walk on foot, but several vehicles are available in some missions. The games are split in several campaigns, split by missions. Dead soldiers are replaced by "fresh meat" at the start of each new mission. Each soldier that survives a mission is promoted, but does not get more advantages than a new trooper.
Download Links
System Requirements
Processor: PC compatible,

Pentium 300MMX or higher
OS:

Windows 9x, Windows NT, Windows 2000

Windows XP, Vista, Win 7, Win 8, Win 10.
Game Features:

Single game mode
Cannon Fodder Screenshots