Driver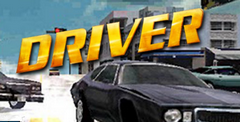 Developer: Reflections Interactive Limited
Genre:

Arcade/Action

Originally on: Windows (1999)
Works on: PC, Windows
Editor Rating:

User Rating:

10.0

/

10

-

2

votes
Rate this game:

Game Overview
We first covered Driver in issue 64, back in the days when a copy of would leave you with very little change from a fiver: one new pence, to be precise. Consequently, those of you with short arms and deep pockets may have missed it. So for the new boys, here's a recap. Driver is not a racing game - not in the traditional sense, anyway - it's a car chase game in which you play the part of a getaway driver, undertaking numerous (generally illegal) jobs. There is no set race track, no set laps and no crash barriers. Rather, the action is city-based, offering full freedom of movement. Avenues, pavements, parks, and narrow alleys stacked with garbage are all fair game, as are handbrake turns, screeching tyres and elaborate wheel spins. Basically, Driver is every American car chase cliche you've ever seen. And it looks great.
The game is being developed in Gateshead by Reflections, the team behind the Destruction Derby series. Having severed connections with Psygnosis, Driver was without a publisher the last time we saw it, a situation that has now been rectified. In fact, GT Interactive liked it so much they bought the company (paperwork pending). Martin Edmonson is the founder of Reflections, and under the new deal he remains a partner. He also came up with the concept for Driver and cites some obvious influences - Bullitt, The Blues Brothers, Starsky And Hutch, The Dukes Of Hazard, The Italian Job, Smoky And The Bandit, The Cannonball Run.
With more than a keen interest in the destruction of cars, it's tempting to wonder whether this has manifested itself in real life. "No. I've got a clean licence at the minute, actually, a completely clean licence."
In fact, a licence that enables him to drive his Mercedes from his newly expanded offices to his quayside penthouse apartment - a lifestyle somewhat at odds with that of the stereotyped games enthusiast.
The Streets Of San Francisco
Perhaps wisely, the local area was overlooked when deciding on a setting for the game, and Driver actually takes place in Miami, New York, San Francisco and Los Angeles, which, despite being in America, are actually all very different, as Martin explains: "That's precisely why they were chosen. Miami is pastel shades, palm trees, water, blue skies, that kind of thing. New York's very oppressive, with huge city block buildings. San Francisco has to be in there because of Bullitt and because it obviously gives you a lot of opportunities for the landscape. Los Angeles has elements of beach and elements of city in it - the Downtown area, Hollywood, Rodeo Drive. Partly what we're trying to do is create recognisable areas in cities, where you actually know your way around. The buildings themselves are taken from real-life buildings. The major ones are positioned correctly and each area of the city is geographically accurate as well."
The cities are also extremely large, each spanning between 20 and 30 miles and featuring around 150,000 buildings. They also adhere to their own accurate traffic systems, and if you really want to, you can simply go for a leisurely drive - Sim Traffic, if you will. However, the more adventurous gamer will eventually opt for the story-led missions, which include such tasks as picking up bank robbers, tailing a suspected grass or simply ramming someone off the road. More ingenious missions involve delivering a stolen police car intact, frightening a stubborn debtor by taking him for a ride in a taxi, or teaching a restaurateur a lesson by driving through his front window.
Car Trouble
There are 44 missions in total, mosdy involving ill behaviour, not to mention extreme felony. This isn't a situation the pious Japanese market was happy with though, and consequently the storyline has had to be changed to incorporate the lead character as an undercover cop. Further legal issues involve the cars themselves, which were originally intended to be faithful replications of actual models. There are 14 cars in total, but as Martin explains, 'They're not officially licensed because the car manufacturers won't accept any illegal use of the cars, or damage to the cars, or destruction of property. And that kind of sums up the whole game. It's a shame, I suppose, but what do you do? Have the cars not allowed to smash into anything, remove all criminal activity from the game altogether, and not allow the cars to be damaged? It would ruin the game. So what we've tried to do is to take the look of some of these classic American muscle cars - big American black car chase-type cars; fairly faceless, really, but everybody's seen them in Starsky And Hutch and The Dukes Of Hazard. Just a very cheap throwaway car to smash into things."
For extended tomfoolery. Driver also features a comprehensive replay editor, enabling you to utilise a variety of camera positions and types, effectively directing your very own car chase. As Martin says: "The game is really designed to be a simulation of Hollywood car chases, so it seems natural that you should play the part of the director."
It's a very cool idea indeed, and just one of many in a game that is already shaping up to be to be among the most innovative of the year. If Driver turns out to be the sum of its considerable parts, then GT should be very happy with their investment.
Download Links
System Requirements
Processor: PC compatible,
OS:

Windows 9x, Windows 2000

Windows XP, Vista, Win 7, Win 8, Win 10.
Game Features:

Single game mode