Far Cry 4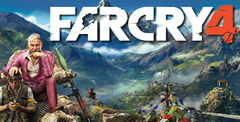 Developer: Ubisoft
Genre:

Arcade/Action

Originally on: Windows (2014)
Works on: PC, Windows
Rate this game:

Game Overview
Going back to your homeland and being immediately attacked by the army of the new monarch sounds like a crazy story, but it happened to the protagonist of Far Cry 4. His mother's last request turned out to be a trap that led the protagonist into an internecine struggle between a terrorist organization and the current government.
Welcome Home
Ajay Gale is an ex-military man who has come to his homeland illegally to fulfill his mother's last will. The Lakshmana Temple was supposed to be his mother's final resting place, but at the beginning of Ajay's little journey he is met by Peigan Min, ruler of the fictional country of Kirat himself. It turns out that Ajay's parents staged a revolution in the country, but lost. His mother fled to the United States with Ajay, and his father was killed.
Two Roads of One Golden Road
After barely escaping from captivity, Adjay has no choice but to defect to the Golden Road terrorist organization. The group immediately accepts Ajay as the son of the group's founder and forces him to help with missions to help overthrow the government. What's more, the faction seems to have two leaders at odds, the first time in the Far Cry series the player will be allowed to choose his own path:
Amita is one of the two heads of the Golden Path. She opposes old barbaric traditions and an outdated religion that requires children to marry or be married. However, she supports the sale of drugs, to provide the country with money and weapons. Places goals above people's lives.
Sabal is Amita's brother and a supporter of the conservative regime. Very religious and in favor of child marriage. However, he is against the sale of drugs in and out of the country. He puts people before goals.
Night hunters and helpful cats
Far Cry 4's gameplay is not much different from the famously insane Far Cry 3. The protagonist still cleans outposts in the form of radio towers, performs hostage rescue missions, and wields a whole arsenal of weapons. However, the rocky landscape of the Himalayas has facilitated the introduction of a new system, the climbing cat. Cling to ledges and reach hard-to-reach targets. New enemies have appeared - hunters. Hidden enemies will cause a lot of trouble with their silent pacing and ability to tame beasts.
9
Find out Kirath's history and why the current ruler is loyal to the son of rebels. Fight for your personal interests and fulfill your mother's will in a liberated country. Questions about the correctness of your actions will not leave you throughout the game and beyond. There is no such thing as purely bad or purely good, and Far Cry 4's shooter vividly demonstrates that.
System Requirements
Processor: PC compatible,
OS:

Windows 9x, Windows 2000

Windows XP, Vista, Win 7, Win 8, Win 10.
Game Features:

Single game mode

Multiplayer (Hotseat, LAN, Internet)