Football Manager 2005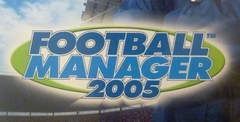 Developer: Sports Interactive Limited
Genre:

Sport

Originally on: Windows (2004)
Also known as: Worldwide Soccer Manager 2005
Works on: PC, Windows
Editor Rating:

User Rating:

8.0

/

10

-

1

vote
Rate this game:

Game Overview
We're Sick of explaining this, but to reiterate for those who've been in prison (or simply aren't that interested in what is after all a fairly minor affair set against the scale of human suffering), the situation is this. Once upon a time, two fresh-faced young brothers made a computer game called Championship Manager. It was dead good and they flogged it to a big scary publisher in London who insisted on retaining the rights to the name until the end of time. Both parties made lots and lots of money for over a decade, but they would sometimes argue and didn't love each other any more. They finally went their separate ways, and the two brothers - by now part of a 34-strong development house - had to think of a different name for their next game, while Eidos parachuted in a reserve team to knock out the next Champ Man.
On The Ball
We'd seen it coming a long way off, and the fact that SI openly employed a PR agency to promote its name may also have offered a clue to seasoned industrywatchers. It was always a matter of when the split would come, rather than if.
And while the situation isn't quite as bitter as David Van Day's Bucks Fizz touring against the real '81 Eurovision winners, it should make for an interesting Christmas, with bewildered punters floundering in the wake of unscrupulous retailers. If in doubt, buy both' would appear to be the message - but we strongly suggest you read the definitive reviews in your favourite PC magazine (or this one) before you do anything too hasty.
Cuddly Toy
Thus far, the Eidos game has been more visible - with a hands-on appearance at the Game Stars Live show, for instance -but there is an atmosphere of calm at Sports Interactive, where we caught up with self-appointed mouthpiece Miles Jacobson. Dwarfed by his La-Z-Boy chair, and surrounded by cuddly toys (we hope this is an affectation), he gave us a comprehensive run-through of the game they're all calling Football Manager.
Ever one for the cloak and dagger approach, Jacobson mysteriously revealed: Expect a few surprises on the league list score, there will certainly not be less...
Tantalising stuff, but nothing compared to the bombshell that was to follow: Just for you, I will actually give you an exclusive - The Peruvian League is added into the game. You heard it here first. Elsewhere. Football Manager 2005 appears to be having a sizeable overhaul from our previous game, as Champ Man is now known at SI. As Jacobson explains: We've changed the user interface completely - it's taking most of our testers about three or four hours to get used to it and not want to go back to the old system any more.
Code Selfish
As part of the divorce settlement, Eidos also retained the look and feel' of the game, but SI got to keep the database and the code. But as Jacobson insists: Everything is based on improved code - it's a new game. Football Manager is a brand new game with a whole new interface to it. We've optimised and improved code all over the shop, but at the end of the day, we would have been pretty stupid to have ownership of the 03/04 code and then not use it.
From an initial play, the game would appear to have been made more accessible to newcomers, with a simple star rating for players, for instance. The media section is also being enhanced with the addition of a full-time scriptwriter, and in conjunction with PhysioRoom, there are now 60 types of realistic injuries featured. Evolution not revolution would appear to be the order of the day, and the message coming out if Sports Interactive is that it's business as usual.
We've always thought of the game as a football RPG, but we're just trying to give it a bit more of that feel, says Jacobson. We're trying to make it easy for new players as well as experienced players of our previous games." What could he mean?
Download Links
System Requirements
Processor: PC compatible,
OS:

Windows 9x, Windows 2000

Windows XP, Vista, Win 7, Win 8, Win 10.
Game Features:

Single game mode
Football Manager 2005 Screenshots