Interstate '76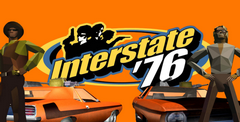 Developer: Activision, Inc.
Genre:

Racing

Originally on: Windows (1997)
Works on: PC, Windows
Editor Rating:

User Rating:

9.0

/

10

-

2

votes
Rate this game:

Game Overview
Aren't You Glad That Gravity Is as strong as it is? Think how much longer everything would take if it was weaker: pouring a cup of tea; getting into bed when you're really tired; waiting for a pass from an Arsenal defender to come down... life would be almost unbearably slow. It would be far better, of course, if you could adjust it as necessary around the home - quickly turning it down when you drop something valuable; switching it off completely when you have sex, or have to move some furniture... whatever. You may argue that this is impossible, that gravity is absolute and unchanging, but anyone who was alive in the 70s knows different. Gravity alters with the passage of time, and the 70s are conclusive proof.
Which Way Is Up
How do we know this? Because the 48-inch flares people had in those days just wouldn't be able to support themselves in today's gravity. They'd be plastered to the legs of the wearer like an enormous elasticated bandage. Likewise the haircuts - you don't seriously imagine that Farrah Fawcett's haircut would stay flicked back at the sides in that gravitydefying way these days, do you? Her face would be completely obscured behind a wall of hair, and she'd have to resort to walking round with a number three crop. The average jacket lapel would be scraping along the ground like an elaborate anti-static device (unless it was polyester, in which case it would be a pro-static device).
Do What You Wanna Do
Which brings us to Interstate 76. Not only is it set around the stretcfi of tarmac of the same name, but it's also set firmly in the year of polyester lounge suits and sideburns the size of baguettes. It's an alternative reality 70s. There's still nary a natural fibre in sight, but a gang of auto-mercenaries is intent on destroying America's oil reserves.
You get to race about in one of those enormous muscle cars Americans had to salve their egos after losing several wars with small South-East Asian countries. And you get to shoot the shit out of the mercenaries through a series of missions, in one of 25 gas-guzzling monsters with rocket launchers on the roof. Many of the people behind the MechWarrior series are involved, and it uses a version of that game's terrain engine, so you won't have to stick to the roads as in previous attempts to do this sort of thing. You can wander about freely in the desert, using valleys for concealment, or whatever. You can even jump rivers if you can get the speed up (which, in a 5.5-litre engined car, shouldn't be too much of a problem).
Shame
The missions are linked by cut-scenes which are gloriously retro, and the whole thing's reminiscent of an episode of Starsky and Hutch - right down to the 70s lounge-funk soundtrack, the clothes and speech, and even the title sequence. It looks like being a great laugh, if only because it doesn't take itself too seriously. Of course, the heavy weaponry helps. I bet you wish you'd kept your short-sleeved safari suit now...
Have A Good Look At The Panel Below - it's the brilliant intro to Interstate 76, and it sets the superb flavour of the game to come. It's essentially a mission-based car game cum shoot 'em up in so far as (a) there are missions, (b) you drive a car, and (c) you're loaded up with cannons, rockets and all sorts of other kit. The basic story is a sort of post-apocalyptic Mad Max affair, but set in the States rather than Oz. The baddy (the one who shot your sister at the beginning, while you were busy listening to the groovy funktrack) is after the last great American oil reserve, and he has a gang of about 17 trillion car driving hoodlums to help him. You, on the other hand - as you'll have gleaned from the opening credits - have only yourself, Taurus and Skeeter. Oh well, at least you own the grooviest waistcoats!
Bookends...
Here's what the Interstate 76 manual says about the in-game cut-scenes: "[It] provides players with one fluid cinematic experience by creating scripted animated sequences with the same art style as the simulation. Serving as bookends to each mission, the sequences - which feature unique and engaging characters - allow the story to unfold by providing players with mission briefings and debriefings."
So what's new there? I'll tell you, and the clue is in the words "animated sequences with the same art style as the simulation". Yes, the plot parts of the game and the 'play' parts of the game blend seamlessly into one, thanks to everything - including the actors - being polygonised. It works a treat, or rather it would work a treat if you didn't have to turn off all the in-game detail to get anything approaching a workable frame rate.
Oh no...
Oh yes. Sorry. It's a crying shame, it really is, because Interstate 76could have been a real contender. The cheesey '70s storyline, acting and direction are brilliant - as are the missions. In terms of 'interactive movie', this works. And the music? Whukka chakka chukka! It's so seriously groovy that words fail me (I wonder what make the wah-wah pedal is? A really old Colorsound one maybe?).
But I'm drifting from the point. Interstate 76 fails to be a classic, at the end of the day, because the in-game graphics, once toggled, suck. It's one of those cases, however, where you find yourself asking 'But do I really care? Things are so potentially excellent could I not overlook the shortcomings? Could I not get used to the crap visuals?' Unfortunately in this particular case, you can't. I tried and I tried, but eventually gave it up as a bad job. It's a case of the proceedings being clear and good-looking but unplayably jerky, or bland and empty (and, er, still a little bit jerky to be honest). Plus - and this is even worse - the mountain scenery polygons sort of continually 'update themselves', even when you're right next to them... the net affect being that there you are jerking about in blandsville, while the mountain up ahead is going all wibbly. (I take it those are technical terms - Ed?)
Oh no, guilt, guilt...
I hate having to give Interstate 76 a lowish score, because originality really should be rewarded, as should the fact that the playing areas are so large and that you can drive wherever you like. Um. How about, er, we applaud Interstate 76? No? Go on, please, let's get to our feet and give a hearty round of applause before I award the score. I'll clap first. (Clap clap clap clap.) Come on, clap with me. (Clap clap clap clap.) Awww, come on, please... (Clap clap clap clap.) Bastard. Still, at least you get the drift, eh, even if you won't clap. (Phew, thank god that's over - A Reader).
Interstate 76 is just about the most groovesome car game ever, but unfortunately it sort of shoots itself in the driving foot. So, urn, I suppose it's back to the bloody carnage of Carmageddon then (which from now on I'm going to play while listening to old Shalamar singles)...
Download Links
System Requirements
Processor: PC compatible,
OS:

Windows 9x, Windows 2000

Windows XP, Vista, Win 7, Win 8, Win 10.
Game Features:

Single game mode
Interstate '76 Screenshots