NARUTO SHIPPUDEN: Ultimate Ninja STORM 4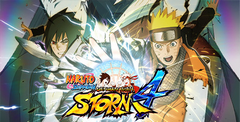 Developer: CyberConnect2 Co. Ltd.
Genre:

Arcade/Action

Originally on: Windows (2016)
Works on: PC, Windows
Rate this game:

Game Overview
Adventure comes to an end sooner or later, giving way to a measured existence or a new era. Such is the case with the travels of Team Seven in the fighting game NARUTO SHIPPUDEN: Ultimate Ninja STORM 4. However, to live peacefully in the shinobi world, you must survive the most massive war the ninja world has seen.
Masks torn off, villains summoned for battle
The identity of the puppeteer is finally revealed, Obito Uchiha was taking orders directly from the legendary shinobi, Madara Uchiha. The statue with the tailed demons is almost ready, and the entire shinobi world awaits a large-scale war with the living dead, who were once legends of their time. How will the shinobi war end, and who will be left standing after the most destructive techniques?
Freedom and Duty
Become one with the best of the shinobi world and find the strength to stand up to the most powerful shinobi of the Naruto world. The heroes of the two-part story of Naruto Uzumaki's ascent to becoming Hokage will lend you their strength on impromptu battlefields. There are only two narrative styles in the game, as has been the case in the past:
Story Mode - Find yourself in the fourth shinobi war. Play as the brightest representatives of your villages and destroy the army of the strongest enemy the ninja world has ever seen
Adventure Mode - The war is over and you're now free to wander the open areas of your village and mingle with your favorite anime and manga characters. No more tension, just running small errands and missions on which the future of the ninja world does not depend
The Art of War
Large-scale battles, huge tail bombs and the ancient demons themselves will be some of the playable characters. Use every possible option to protect the peaceful skies. What other enemies will join the battle and whether Naruto will be able to return his best friend to the righteous path, find out in the epic battles of NARUTO SHIPPUDEN: Ultimate Ninja STORM 4.
9
Playing an anime sounds like complete nonsense, but is a reality in the fighting game world of NARUTO SHIPPUDEN: Ultimate Ninja STORM 4. Join Team Seven or the resurrected hokage in Shinobi War 4.
System Requirements
Processor: PC compatible,
OS:

Windows 9x, Windows 2000

Windows XP, Vista, Win 7, Win 8, Win 10.
Game Features:

Single game mode

Multiplayer (Hotseat, LAN, Internet)
NARUTO SHIPPUDEN: Ultimate Ninja STORM 4 Screenshots