Oddworld: Abe's Exoddus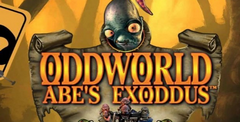 Developer: Oddworld Inhabitants
Genre:

Arcade/Action

Originally on: Windows (1998)
Works on: PC, Windows
Editor Rating:

User Rating:

9.3

/

10

-

3

votes
Rate this game:

Game Overview
When Abe's Oddysee was first reviewed (it's now available at a knock-down price on budget) it was a bastard of a game, it must be said. It had a cute exterior, but a heart of steel, proving difficult and unrelentingly ruthless in terms of actual gameplay. I remember poor old Richie being lumbered with the unenviable task of putting together a Troubleshooter walkthrough, and it visibly sucking the life out of him in the process. This sequel, Abe's Exoddus, is of the same mould, and (unsurprisingly) Richie declined the chance to review it So here I am, reviewer of the original game, tearing my hair out instead of him.
Recap
For those unfamiliar with the prequel, Abe's Exoddus comes complete with a humorous recap ("For those too cheap to buy the first game..."), then the obligatory intro kicks in and Abe is immediately thrown in at the deep end.
The evil Glukkon are at it again, harvesting Abe's race for the dinner table. This time they're raiding bones from the burial grounds of Abe's Mudokan predecessors and making some sort of 'alco-pop' out of them. Naturally this is a bad thing, and you're the one who's got to put an end to it.
Hidden Delights
Abe's Exoddus generally plays pretty much the same as Abe's Oddysee in that it's a 'flick screen' platform game; there are hideous traps and monsters out to kill you at every opportunity; and you can walk, talk, run, jump and fart (complete with Comedy Arse Gas). That, however, is not a huge problem, because the game is cleverly designed and fun to muck around with.
A number of subtle changes have been introduced to this sequel, making it marginally less frustrating to play than the endless dying of the previous title. For starters, there's a quick save (or QuikSave, as they call it) option, which enables you to save your exact position in the game, whereas previously you had to restart at the beginning of a level every time. On top of that there are some fun vehicles to ride, and an overhauled 'gamespeak' system which enables Abe to enlist the help of numerous NPCs simultaneously, or take over the bodies of a greater variety of 'enemy' creatures. For those of you wondering what the hell I mean, you're going to have to find out yourself. It's one of Abe's Exoddud many hidden delights.
Mentally Unstable
At the end of the day, this game suffers from the same problem as the first one: it's too f**king hard. Don't get me wrong, I could complete the game if I wanted to but I just can't be bothered. It makes my brain hurt too much.
It starts off well enough, but even with the QuikSave feature you still end up replaying certain sections over and over again. You sometimes start to dread moving into a (obviously harder) new area of the game. Just spent three hours hopping through the last three screens of the game? Now having to contend with something infinitely more challenging? Nah.
There is respite, and the cut-scenes are brilliantly created (especially in the sound department). But you do end up wondering what kind of masochistic gamer this is aimed at. If you've got the patience of a saint, I'd say try it - there's not much like it on the PC at the moment. Me? I'm not mentally stable enough to see it through, so I'm ducking out of this one.
Download Links
System Requirements
Processor: PC compatible,
OS:

Windows 9x, Windows 2000

Windows XP, Vista, Win 7, Win 8, Win 10.
Game Features:

Single game mode
Oddworld: Abe's Exoddus Screenshots