Darkstone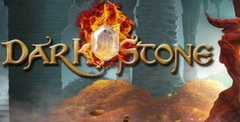 Developer: Delphine Software International
Genre:

Arcade/Action

Originally on: Windows (1998)
Also known as: Darkstone: Necromina
Works on: PC, Windows
Editor Rating:

User Rating:

7.0

/

10

-

4

votes
Rate this game:

Game Overview
Now that RPGs have once again swung into the more acceptable parts of this fashion-led world we call gaming, it seems everyone is stepping up to have a go. Baldur's Gate entered the chans at number one last month, Final Fantasy VII is still hot in everyone's mind (and Final Fantasy VIII is eagerly awaited), Diablo II and Ultima IX are getting ever closer and, over in console land, Zelda has become the fastest selling game of all time (if the pitch-side advertising hordes at football grounds are to be believed). Hell, even multiplayer orc-bashing is forgivable, thanks to Ultima Online.
So what, if anything, can Delphine's entry into the market, Darkstone, offer that we can't get elsewhere? Other than being French, of course. "Darkstone is an RPG game first, with action: an RPG action game. With adventure elements." Delphine's development manager, Bertrand Gibert, seems eager to cover the whole gameplay spectrum, even if he does sound as though he's reciting a Monty Python sketch.
Darkstone is the brainchild of gaming veteran Paul Cuisset, who started his career with the groundbreaking adventure Future Wars and then continued to amaze us with each new release (see CV, left, for details). "He likes to tell stories and invent scenarios, things like that," explains Gibert, in town to show off the company's first attempt at a role-playing game to the British press. "He also very much likes traditional role-playing games, as well as games like Diablo, of course. So he decided to create a game which has both RPG and action elements - a little bit like Diablo - but in a different way, with deeper stories bringing adventure elements like characters, object management, puzzles and stories to the RPG world, but not forgetting the action. He put them into a real-time 3D engine, with the player able to control characters at once."
Francais Dieu
The almost reverential tones in which Gibert talks about Cuisset give the impression of some sort of god-like figure, pacing the halls of Delphine Software, bringing game-playing 'magic' to everything he touches. You feel like shaking him by the lapels and telling him to calm down. It's only a game, for heaven's sake.
But within the awe-struck praise are some telling phrases - namely, the overt references to Blizzard's Diablo. At first glance, the two games look very similar - both employ an isometric viewpoint; both contain detailed animation for the characters; both have simplistic one-click interfaces and similar styles of gameplay and both, naturally, are role-playing games in a fantasy world.
two Spending some time with the supplied alpha code proved to be something of a revelation, though. Obviously, there's still a fair bit to be completed, but it's only when you sit down with it that you begin to appreciate just how much is on offer and how different to Blizzard's game it really is. The ability to position the camera anywhere you feel like, for instance, gives a much more three-dimensional feel to the world, and the fact that you can zoom in really close allows you to explore your surroundings in much greater detail.
Then there's the two-character control system, which gives you a sense of being part of a team, rather than a lonely hero with only his sword and his donkey for company. And then of course, there are the stats.
Stats A-Go-Go
The lifeblood of any good RPG is how many pointless numbers it can throw at you. At times, Darkstone resembles an Excel spreadsheet, with numbers attached to just about everything in the game. All the fantasy staples are here - strength, dexterity, intelligence, bigotry, etc - and all are subject to the rigorous "Heroic Deeds equals Experience Points equals Better Pecs" formula that RPGs uniformly rely on.
As well as stats, characters are blessed with a progressive skill system that relates to their particular profession. Warriors become adept at such things as hunting, killing, dodging and yelling manfully wizards can master reading, writing and mixing potions, for instance, while monks learn about going prematurely bald. You get the idea, at any rate.
The Fight
Whether Delphine will manage to avoid the trappings of Darkstone ending up as just another Diablo clone, or whether it can turn its more original elements into something more appealing, is another question altogether. It'll need to punch home the epic storyline in much greater detail and the characters will need to feel as though they're more than just a collection of stats.
Role-playing games are all about adopting a character and living out a gripping tale. Will they manage it? That all depends on how much of a god Cuisset really is.
Going down the same route as Diablo II but with a fully rotateable and zoomable 3D camera, Darkstone is an extremely simple proposition. Far from the lush gorgeousness of Vampire, this French-developed affair has little in the way of plot, script or acting talent, but still manages to entertain through the classic ingredients of levelling-up, spell-casting and dungeon exploration. The graphics are pretty poor and the animation is even worse, while the whole game's aesthetic seems to be caught between the colour overload of a Japanese console RPG and the polygonal conventions of Western character design. However, give it time and it will grow on you, but only if you can't afford Vampire.
Download Links
System Requirements
Processor: PC compatible,
OS:

Windows 9x, Windows 2000

Windows XP, Vista, Win 7, Win 8, Win 10.
Game Features:

Single game mode