Silver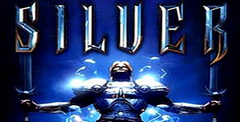 Developer: Atari
Genre:

Adventure

Originally on: Windows (1999)
Works on: PC, Windows
Editor Rating:

User Rating:

8.0

/

10

-

2

votes
Rate this game:

Game Overview
Final Fantasy VII is considered by many to be one of the finest turn-based role-playing games ever seen on any platform. Its rich and varied plot, breathtaking graphics, truly awesome pre-rendered cut-scenes and undeniable depth and variation of gameplay have won the game millions of fans the whole world over. The developers of Silver appear to have duly taken note of this fact and set about producing a game that will give Sony's landmark title a run for its money - and then some.
Where the PC version of FFVII was little more than an enhanced port of the PlayStation version, Silver has native support for the new generation of 3D cards. This accounts for the sumptuous visuals evident in the screenshots on this page.
But Silver needs more than a pretty face if it is to capture the imagination of increasingly discerning PC gamers who are now spoilt for choice in almost every genre you care to mention. To this end, developers Infogrames have homed in on an area they know to be close to the hearts of the majority of the PC gaming community - real-time strategic combat. European and American gamers in particular will surely take to real-time combat more readily than to the sometimes tedious turn-based action typical of games in this genre. We shall see.
Great Expectations
Silver promises to be a truly epic-adventure. There are 270 different locations to explore in the game, and more than 60 characters to meet and interact with. The characters give you information which points you in the direction of'mini-quests' that take you away from the main storyline. You'll have complete freedom to explore the massive game environment at your leisure too, with non-linear, open-ended gameplay thankfully high on the developers' current wish list. To give you some idea of how big Silver's digital game environment will be, Infogrames reckon their experienced playtesters are currently taking 32 hours to get from the beginning of the game to the end, despite the fact that they know exactly where to go in the game and what to do next when they get there. Less experienced players can presumably expect to be flummoxed for the best part of a week, then. Silver is undoubtedly a game that shows great promise.
Mention dragons and ores to anyone with acceptable standards of personal hygiene and they'll run a mile. Not literally (that would involve exercise), but it's safe to say that gamers weaned on fast cars, football and fighting have little truck with the sinister world of the RPG, an acronym that immediately suggests bearded men rolling dice and drinking flagons of cider. RPGs have certainly had a bad press over the years, the genre proving to be the gaming equivalent of trainspotting.
However, attitudes could be set to change as Silver attempts to shatter preconceptions. In fact, so much so that it could be said not to be an RPG at all. Indeed, it doesn't slot comfortably into any particular pigeonhole, as the game's producer, Lee Clare, explains: "A lot of people have drawn comparisons with Final Fantasy VII, which is nice, but we started way before we'd even seen Final Fantasy VII.
It's nothing like it at all; this is real-time combat. I don't think there's a genre you can bang it in. I'd say it's an arcade adventure beat 'em up. I mean, that's bizarre. You've got role-playing elements in that you have stats-based combat, but it's like Command & Conquer in that you have combat strategy management. You don't actually see that until you've got through 60 per cent of the game, so most people make the assumption that it's an adventure game. I don't know how to pigeonhole it, it's been really hard."
Silver Lady
It may not be the easiest game to describe, but the story behind Silver is crucial, and goes a little bit like this... The titular Silver is a pretty nasty piece of work. In fact he's an absolute shitehawk. For a bit of a laugh, he decides to kidnap every woman in the land of Jarrah, mumbling something about needing a new wife. You play the role of the more soberly named David, and when your good lady wife Jennifer is dragged kicking and screaming from the conjugal bed, you are understandably perturbed. Naturally you instantly set about avenging this misdemeanour and try to restore a semblance of some sort of order to the proceedings.
Set in a mythical time of swords and sorcery, it's essentially a classic battle between good and evil, with a nod toward: Romeo and Juliet or, for the drama students, Orpheus and Eurydice. Requiring heroic action in the face of overwhelming opposition, it's also a bit of a David versus Goliath encounter, or, more specifically, David versus Silver. In common with numerous games over the years, it's quite literally a case of kill the bad guys and get the girl. As Lee says: "David's your all-American, whitetoothed, blond-haired hero."
Of course, any budding hero needs to be a dab hand with a sword. Practice comes in the form of a training session, enabling you to get to grips with the innovative combat system. This involves sweeping the mouse about violently, your actions replicated on-screen by the swiping and lunging of your sword. It looks like a strong right arm will be required, although this shouldn't trouble the majority of dedicated RPG fans.
As well as the perennial trusty blade, ranged weapons also come into play, including throwing knives, catapults and the good old bow and arrow. It's not all fighting though, as an array of magic can be thrown into the mix, including such handy tricks as an invisibility spell and a Lycanthrope amulet, which turns you into a hairy-backed werewolf. Other characters can come to your aid, and up to three can be controlled simultaneously. For instance, you can tell one character to attack while the other two make good their escape. Success in the game is dependent on mastering a number of skills, and as such there are no difficulty levels. As Lee explains: "If you're crap, you don't gain experience. It's based on training. If you're no good at it, then hard shite."
Silver Dream Machine
Silver features a vast array of characters, the majority of whom have speaking parts. A huge amount of dialogue has been recorded, and the developers have drawn upon a disparate array of voice talent. For instance, erstwhile long-scarved Doctor Who Tom Baker provides the narration. Displaying more ham than Sainsbury's, Baker rolls out lines such as "A terrifying evil was unleashed", his unique brand of high-eyebrowed spookiness proving well-suited to the tone of the game. However, his involvement in the project was more down to chance than planning, as Lee reveals: I met him in the boozer up the road. He was busy doing Casualty at the time."
The game is being developed in Manchester, and other artists mooted included Coronation Street's Les Battersby and Curly Watts, the latter pencilled in to voice the part of a landlord. Such casting failed to materialise though, which in light of actor Kevin Kennedy's well-publicised alcohol problem is probably for the best. Metal-toothed junglist Goldie was also passed over, although the music industry is tenuously represented by hirsute rockers Supergrass, of all people.
Coming on two CDs, what is certain is that Silver will be absolutely huge, offering at least a good 50 hours of play. As Lee concurs: "It's a f..king big game." Whether it's also a f..king good game will become apparent next month, when we get our hands on a copy and do a review and that.
On paper at least, Silver seems an Intriguing prospect. Three years in development, the game is a highly ambitious mix of straightforward real-time combat and traditional role-playing. Also thrown into the gameplay melting pot are story-developing cut-scenes, token puzzles which pay homage to modern adventure games which, with few exceptions, are unlikely to tax all but the most feeble of minds, and 'speaking' characters who happily waffle on for the entirety of the game, complete with real voice-overs from their human counterparts. So there is indeed a lot to take into consideration here.
Silver cannot safely be described as an RPG, and indeed the developers concede this point by dubbing it, somewhat reservedly, an 'action-adventure'. Which, let's face it, could mean anything. There are certainly obvious comparisons to be drawn between Silver and 'noted' titles in the RPG genre - curiously, not PC titles in particular, but games which have made their names on consoles such as the SNES and Sony's PlayStation. Let us take you through the first 30 minutes of Silver anti all will become clear.
First Impressions
Load up the game and you're greeted by a long FMV intro which explains the story of the eponymous Silver how he rules the land of Jarrah with an iron fist, and outlines his plans to ensure that this most unsavoury state of affairs continues as long as he's got anything to do with it During a particularly productive brainstorming session, Silver comes up with a cunning plan (very convoluted, and explained in detail in the opening movie) which basically involves the needless extermination of 100 young virgins. To this end he sends out his son Fuge to find the maidens and bring them back to Silver's castle under the pretence that he is looking for a bride.
One of the maidens in question, a young lady called Jennifer, is married to David, the hero of our tale. David is of course less than pleased when his wife is taken away by Fuge to join the other unfortunates, and so the scene is set for you to take the reigns and make your way to Jarrah in search of David's recently snatched loved one.
This is the kind of scene that has been enacted many times before in countless Japanese RPGs on the Megadrive, the SNES and the PlayStation, and most recently on the PC in the form of Final Fantasy VII. And indeed elements of FFVII kick in as soon as Silver's lengthy intro ends. The opening scene in the game 'proper' takes you through the abduction of David's wife, and then treats you to various cut-scenes which are presumably meant to set the scene for what is to follow. In between the cut-scenes, you are invited to take part in a few token battles, and are also given a brief but handy on-screen tutorial which helps you get familiarised with the combat system.
This is the first problem that you may have with this game. As is the case with FFVII, much of your first hour with Silver spent watching cut-scenes and clicking the mouse impatiently in an attempt to get back to some real action. The in-game dialogue is passable enough, but how much time do you want to spend listening to meaningless waffle before the game really starts? Infogrames no doubt argue the point that scene-setting is an important factor in getting you truly immersed in the game, but they appear to have forgotten that you're unlikely to become immersed once you've fallen asleep in front of your monitor. So it takes a while to get going, but once it does your patience is rewarded with a pleasant surprise or two.
Hmm...Nice
Silver is a fantastic-looking game. The rendered backdrops are truly awesome, and the in-game characters are brought to life through incredibly realistic animation. A lot of thought has been put into making the enemies in the game look as convincing as possible, with imps running around playfully at great speed, ducking your attacks and backing off when they've taken too much damage, and more powerful monsters lurching towards you dangerously without fear. Combat in Silver can be truly exhilarating, with real-time combat for once providing the 'do or die' sensation that the phrase often hints at but rarely delivers.
However, there are a few gripes. The character you control (usually David, but you can also control other party members) does not automatically turn to face the enemy. In the heat of battle it's often easy to click the cursor on the enemy, expecting your character to attack, only to discover that he's not quite facing in the right direction, and you can but watch as your hero misses the enemy completely and gets twatted accordingly as punishment.
The interface could be better too. Right-clicking on your character brings up a menu from which you can do things like feed him if his health is low, change weapons, ready magic spells and so on, but the action doesn't stop while this is going on. This makes it difficult to execute potential life-saving actions when you're fighting a difficult character and you're almost out of health.
On the plus side, some of the magic spells are quite spectacular, and the combat visuals are mighty impressive without the aid of 3D acceleration. Ultimately, impressive though Silver certainly is, it will inevitably be compared to the game it has obviously looked to for inspiration - Final Fantasy VII.
Final Fantasy Silver
From the rendered backdrops to the cute characters and predictable storyline, Silver screams Final Fantasy VII from the rooftops. Unfortunately it doesn't have anything like the depth or peerless imagination of that game, which sports incredible cut-scenes, absorbing subgames, complex yet ultimately rewarding battle sequences, and a character evolution system which has yet to be rivalled. Also, with the RPG element of Silver almost thrown in for novelty value, RPG aficionados will find nothing of interest here.
However, as a combat/adventure, Silver is an enjoyable game, with much to offer those with a casual interest in the lighter side of RPGs, and as such it should appeal to newcomers to the genre and also to experienced gamers who don't expect too much from it.
Download Links
System Requirements
Processor: PC compatible,
OS:

Windows 9x, Windows 2000

Windows XP, Vista, Win 7, Win 8, Win 10.
Game Features:

Single game mode