Poppy Playtime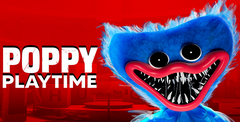 Developer: MOB Games
Genre:

Arcade/Action

Originally on: Windows (2021)
Works on: PC, Windows
Rate this game:

Game Overview
Children's dream of toys coming to life becomes a nightmare in the survival horror game - Poppy Playtime. Play as a former toy factory worker and try to stay alive. Why can loving children lead to death? How do you find your way out of an abandoned factory and why are there still signs of life in the empty rooms? Find the answers by crossing the threshold of the Playtime Co. - a factory that hides many terrible secrets.
Quitting is good for life
A former employee of a toy company is forced to return to the workplace. The reason for his return is much creepier than the lack of another job. Playtime Co. has closed because of a mass of missing employees. No one knows why or where people went missing, and the company has been unable to win lawsuits. Children's favorites disappeared from store shelves along with the factory, but many toys are still locked inside.
Experiment 1-0-0-6 and its aftermath
Traveling through an abandoned factory turns out to be a dangerous undertaking. It's not just the dilapidated machinery and exposed wires that pose a real threat. Hidden company experiments are watching from distant dark corners and want revenge on the workers for their misery.
A toy world full of mystery
Gameplay includes a journey through a factory full of mystery and danger. A Grab Pack device with two huge arms is at the player's disposal. The device was used to make life easier for employees and can carry a lot of weight, conduct electricity and help climb to great heights. The Grab Pack is used to solve numerous riddles and escapes from monsters.
Dangerous Guard.
Monsters? In a toy factory? That's right, the company's experiments promoted the idea of creating a smart toy that would be perfectly obedient. The best result of such experimentation was Huggy Wuggy. The huggy toy became very popular with children and eventually became the face of the company. A toy exceeding the average human height appeared in the factory as a result of one of the experiments and became an assistant and guardian of the premises. Although the player acts as a former guard, but he entered the territory illegally, right?
In addition to Haggy Wuggy, the factory premises housed such toys as:
Poppy doll.
Kissy Missy, the female version of Huggy Wuggy
Both toys are trying to help the player, but Huggy Wuggy will try by all means to eliminate the intruder.
8
The game resembles Five Nights at Freddy's: Security Breach in spirit and the very idea of toys coming to life. However, scary toys are as beloved by children as pizza animatronics. Try to survive and learn the most serious secrets of the company and the factory.
System Requirements
Processor: PC compatible,
OS:

Windows 9x, Windows 2000

Windows XP, Vista, Win 7, Win 8, Win 10.
Game Features:

Single game mode

Multiplayer (Hotseat, LAN, Internet)
Poppy Playtime Screenshots