The Journeyman Project 3: Legacy of Time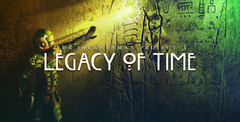 Developer: Presto Studios, Inc.
Genre:

Adventure

Originally on: Windows (1998)
Works on: PC, Windows
Editor Rating:

User Rating:

8.0

/

10

-

2

votes
Rate this game:

Game Overview
Ah, The Journeyman Project. I know - you haven't the faintest idea what it is. That's not so surprising, as the previous two (I can barely remember the second, and the first is a complete blank) were victim to the old 'nice graphics, shame about the brain' syndrome and as such were instantly forgotten. Well, the bad news is we've proved that the old adage of 'ignore it and it'll go away' doesn't seem to work. The good news is it doesn't matter - The Journeyman Project 3: Legacy Of Time is actually pretty damn good.
The first point I should mention is that there's a very good adventure game buried in here, not to mention a good learning curve as well. The opening section acts as a kind of prelude to the main story (although I won't spoil it for you here, and besides, I haven't got the room) and lets the player get used to the interface. It then carries through to the main adventure itself where the player has to jump around different time zones in order to recover the ancient legacy.
One area that I particularly like is the chameleon suit's ability to take on different identities. Whenever you encounter someone, you can take an image of their likeness and morph into it. This allows you to then interact with various people in different ways, depending on the form you've currently adopted as your own. It's a really clever touch and makes for some very creative puzzles.
Take five, people
The graphics are improved too, although to be fair to the other games, this was always the area in which they shone anyway. Still, we're up to and beyond the Myst/Riven level here and they work well when superimposed with the FMV footage of actors. The FMV isn't the best technical quality I've ever seen, but in a way the slightly grainy feel works to the game's advantage because if the resolution were any clearer, the blue-screening would be more noticeable.
It also helps that your attention is drawn away from the technical side of things by some rather good quality acting, directing and editing. In these so-called 'interactive movies', the rush to sign up big-name stars often overtakes the need for a quality director behind the camera to keep things in check (witness for instance Christopher Walken in Ripper-a perfectly fine actor, but only when he's treated right). Journeyman 3 keeps the scripting, dialogue (especially that of your robot sidekick which could easily have become very annoying, but instead actually manages to be amusing) and, most importantly, the pacing, just right and succeeds in making the game interesting - an aspect that was more often than not absent in the previous two games.
Dizzy, my head is spinning
One aspect that has sadly been retained from the previous games is the 360-degree panoramic viewing interface. Some people don't mind it, but I have to say that it doesn't work for me and I'd rather it was left in the past. Zork: The Grand Inquisitorand Riven used a similar device - you can spin your head in any direction but only move from one pre-rendered position to the next - a sort of restricted-movement Quake.
I don't actually know why this does nothing for me; all I know is that I've never liked hotspots in adventure games. If I can see something on the screen, I want to be able to interact with it, regardless of what is. If something is classed as 'scenery', all that happens is a feeling of artificiality is enforced. In the classic text games of yore, if something was mentioned in the room description, the author would make sure there was a routine to deal with a player's action towards it. Even if it was just a simple, "The oak tree is several thousand years old id too large for you to eat," the player still type, "Put tree in mouth" if that ion he wanted to try. The Took but don't touch' ethos is just as frustrating in an adventure game as it is in a Soho lap-dancing club. Or so I'm told.
Oi knows moi place
But this is really the only area that I have a problem with. Jhe only other strike against the game is that the sense of apathy directed towards the previous titles in the series means it's going to have to work that bit harder if it's to engage an audience. Everything else works well though, and the overall product is definitely a solid step forward for the Journeyman Project series. There's still room for improvement, but even if it doesn't manage to reach the levels of enjoyment achieved by Zork: The Grand Inquisitor, at least it's better than the pretentiousness of Mystand Riven.
Download Links
System Requirements
Processor: PC compatible,
OS:

Windows 9x, Windows 2000

Windows XP, Vista, Win 7, Win 8, Win 10.
Game Features:

Single game mode
The Journeyman Project 3: Legacy of Time Screenshots